Today's Library Media Specialist
Ever wonder what it's like to be a library media specialist in schools today? Join us for this month's IDEA Studio webinar
Tuesday, Feb. 20
3:30pm
Get the inside scoop on school libraries and technology integration from veteran leaders and library/media specialists just starting out!
Please register for this webinar on this Google Form.
Mernie Maestas
President, MO Assoc.of School Librarians
Mernie Maestas is current President of the Missouri Association of School Librarians. She has served more than 30 years as lead librarian of Wentzville School District and will share her experiences in one of the fastest growing districts in the region. She is also a doctoral student at Emporia State University in library and information management.
Bill Bass
Innovation Coordinator, Parkway School District
Bill Bass is a former English teacher who now serves as Innovation Coordinator for Instructional Technology and Library Media in the Parkway School District in St. Louis, MO. As a speaker, writer and professional developer, he focuses on systemic and sustainable integration of technology into classrooms at all grade levels. Bill currently serves as the President-Elect on the ISTE Board of Directors and as Past-President of the ISTE Innovative Learning PLN as well as the Gateway Media Literacy Project board of directors. He is a Google Certified Innovator, Google for Education Certified Trainer and DEN Star Educator. He has written numerous articles, book chapters and has authored two books, From Inspiration to Red Carpet (ISTE 2012) and Digital Reading: What's essential in grades 3-8 (NCTE 2015). He is also a former member of the NCTE Executive Board.
Yvonne Bonner
First-Year LMS,McCluer School District
Yvonne Bonner is a former Business Education teacher at McCluer North High School in the Ferguson Florissant School District. In May 2017 she completed her second Masters at Lindenwood University in Library Media Services. While at Lindenwood, Yvonne received the 2017 Doroty Doyle Award, which recognizes outstanding achievement for library media students. In May 2017 she was hired as the Library Media Specialist at McCluer South-Berkeley High School. She will be sharing her experiences in her first year in this role and will offer valuable insight to anyone considering a degree in school library media.
---
Lindenwood University & Greater St. Louis School Librarians
Library and Creative Learning Space Series
Join us on the fourth Friday of each month to explore a new library, makerspace, or other unique learning environment in the St. Louis area. All are welcome to attend!
Learn more and reserve your spot at https://tinyurl.com/LULibraryVisit
---
Wednesday, Feb. 28, 5 p.m.
St. Louis Public Library Creative Experience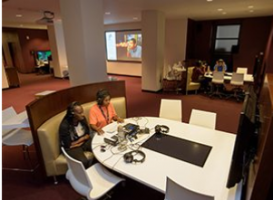 Explore the makerspace, minecraft, and multimedia mecca that is the St. Louis Central Library! You'll learn about the many resources afforded to patrons and school library outreach initiatives.
---
Wednesday, March 28, 5 p.m.
Northwest High School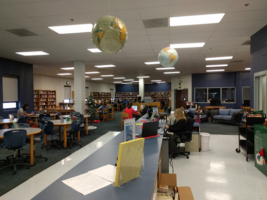 The Northwest High School library has flexible seating for students, a music production room, and an audio production room. It houses a 3D printer and Circuit for students to use along with board games for students to check out.
---
Wednesday, April 25, 5 p.m.
Orchard Farm High School

Learn how the librarians at Orchard Farm High School support independent research and a variety of projects designed to foster creativity and critical thinking using everything from green screen videos to BreakoutEDU! We'll explore The Design Studio, which serves as a makerspace and offers STEAM opportunities for students to explore personal interests. This Future Ready school is ready to share their ideas and lessons with you!