If you have completed an associate nursing degree or diploma or are pursuing an associate nursing degree and want to concurrently enroll to begin work toward a Bachelor of Science in Nursing, the RN-to-BSN program at Lindenwood University is for you. 
The baccalaureate degree in nursing at Lindenwood University is accredited by the Commission of Collegiate Nursing Education.
Post-Licensure Bachelor of Science in Nursing Program Goals
BSN graduates will apply professional nursing concepts to provide, coordinate, and lead nursing care in a variety of healthcare settings.
BSN graduates will integrate perspectives from liberal studies in order to enhance understanding of self, others, and the world in which we live.
BSN graduates will pursue professional growth and lifelong learning opportunities through formal and informal educational endeavors.
Lindenwood University Nursing Faculty
The nursing faculty at Lindenwood University is composed of dedicated professionals with healthcare expertise in their areas of teaching. The majority of nursing and allied health courses are taught by full-time faculty who are focused on students' successful learning experiences within each of the programs. You will be assigned a dedicated faculty advisor to provide individualized advice and mentoring essential to your success. The faculty advisor will work with you to continuously update the plan of study to meet your work, life, and school balance needs.
Earning a Post-Licensure Bachelor of Science in Nursing at Lindenwood University
The RN-to-BSN curriculum was developed to achieve the AACN Essentials of BSN education through general education and nursing coursework. You will work directly with a faculty advisor to individualize a plan of study to meet all the nursing and general education requirements to complete the BSN degree.
The RN-to-BSN program offers two paths to your degree: post licensure and concurrent enrollment.
The post licensure method is for licensed registered nurses. Lindenwood University will honor your previous nursing education by accepting 35 of your previous credit hours and applying those toward the 71 required credit hours necessary for the BSN.
If you are currently working toward an Associate of Science or diploma in nursing, the concurrent method is for you. You can begin work toward your BSN degree prior to completing the requirements for a basic nursing degree. To qualify for the concurrent enrollment program, you must be currently enrolled in a state board of nursing-approved nursing program with a nursing GPA of 3.0 or higher on a 4.0 scale.
Degree Requirements
RN to BSN post licensure degree program
RN to BSN concurrent enrollment program
A Message from Dr. Peggy Ellis, Nursing Program Director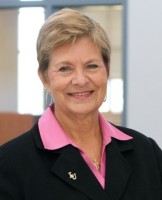 Welcome to the Department of Nursing at Lindenwood University. Lindenwood University has had nursing programs in the past, in the 1940's and from 1978 until 1983. The current Nursing programs were first started in 2013, with a commitment to a long lasting future for the department and our programs. We now offer an RN to BSN Completion program, and a Master of Science in Nursing.
Our Department of Nursing has many points of pride. Our faculty members are active members of their communities and the nursing profession. They bring academic and professional expertise into the classroom with decades of combined nursing practice and teaching expertise. We offer small class sizes and an online learning environment that is flexible but offers quality education. We believe that effective learning takes place in an interactive, non-threatening, nurturing environment. The faculty are active participants in helping students build a foundation to pursue higher degrees and advance their careers. 
Lindenwood University is known nationally and internationally for innovation, entrepreneurship, and extraordinary dedication to students. The Department of Nursing follows in those footsteps. Our nursing programs were developed with challenging curricula to address the needs for excellence in the provision of health care and advance the future of one of our most important community assets – a healthy population.
I am proud to lead this initiative to set high standards in nursing education at Lindenwood University. I invite you to learn more about our Department of Nursing and the programs we offer. I welcome the opportunity to visit with you as you seek to further your education, enhance your skills, and better serve those for whom you provide care.
Peggy Ellis, PhD, RN,
Program Director, Department of Nursing
Lindenwood University