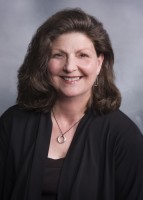 Carol Felzien serves as Director of Administration for the Hammond Institute in the Plaster School of Business & Entrepreneurship (PSB&E) at Lindenwood University. In her current capacity, she's responsible for day-to-day operations in addition to public relations, marketing, and event planning on behalf of the Hammond Institute for Free Enterprise.
In her former public sector role as Director of Communication for the City of St. Charles, MO, Felzien had direct oversight for public relations, communications and marketing, which encompassed support for (12) departments citywide. She was a member of the leadership team under the auspices of the Mayor's office. Felzien managed the gamut from publications to media relations, outdoor advertising to website content, collateral materials to social media, crisis management, speech writing and more. She was also responsible for the city's cable access channel, which in addition to its broadcast component, now offers a widely-viewed YouTube platform, Discover St. Charles.
Felzien has more than 30 years of experience in the public relations arena – both corporate and non-profit – having formerly worked in the telecommunications, health care and transportation industries. She previously served as a member of the PSB&E Advisory Council at Lindenwood University on behalf of the faculty and staff of the Robert W. Plaster School of Business & Entrepreneurship under the direction of Dean P. Roger Ellis, J.D.
Felzien received her Bachelor of Arts in English with a minor in Writing from the University of Missouri at St. Louis.