In today's highly technical world, medical professionals and researchers in the biological sciences are needed to advance the quality of life of people and other species on the planet.
Bachelor degrees in Biology from Lindenwood University-Belleville will prepare you for a fulfilling career in healthcare, laboratory research in many biological areas in industry and academia, field research, and environmental testing. You'll gain hands-on learning experiences through a host of laboratory classes and field studies, where you'll work alongside experienced professors researching real world issues. With the opportunity to earn either a bachelor of arts degree (BA) or a bachelor of science degree (BS) in biology, you'll have even more options for honing your coursework to fit your career of choice.
---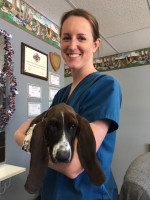 "I feel grateful for my time at Lindenwood. The instructors in the biology program were incredibly supportive, and I was certainly prepared academically for the next stage of my education. Taking more difficult classes at Lindenwood, especially in the biology major, taught me how to study for bigger tests with more information to learn. I really started to think maybe I could get into vet school after succeeding in harder biology and chemistry classes. I appreciate that the university supported cross-curricular education, because I not only received a very strong biology background, but was exposed to other divisions and disciplines, which strengthens chances when looking into professional programs like vet school."
Candace Niemerg ('17)
B.S. in Biology
Accepted to the School of Veterinary Medicine at the University of Illinois at Urbana-Champaign
---
Lindenwood University-Belleville Biology Faculty
The biology faculty at Lindenwood University-Belleville are not only accomplished both academically and professionally, but they are also dedicated to helping you grow and achieve your goals. All of our full-time faculty in biology have earned doctoral degrees in specialty fields, and thanks to our small class sizes, you'll have the chance to develop personalized mentoring relationships with each of them.
Earning a Bachelor of Arts in Biology at Lindenwood University-Belleville
When you choose to pursue a bachelor of arts degree in biology, your courses give you a broad overview of cell biology, genetics, evolution, and ecology. This degree program has fewer math and chemistry requirements and is designed for a double major in another subject, pre-nursing, a career in science education, or advanced studies in healthcare administration.
Earning a Bachelor of Science in Biology at Lindenwood University-Belleville
As a biology major on track to receive the bachelor of science degree, you'll focus on classes in physics and calculus as well as human anatomy and physiology, ecology, and both general and organic chemistry. Students in this degree program often are interested in careers as physicians, dentists, or laboratory research scientists. The BS in biology will prepare you with the writing skills to develop scientific research papers and the opportunity for a more in-depth study of certain fields such as molecular biology and environmental biology.
Earning a Minor in Biology at Lindenwood University-Belleville
Even if you choose to major in a different degree program, such as business administration or psychology, you may still be interested in adding a minor in biology to your degree. A minor is simply a secondary academic subject to add to your knowledge, whether it is professional or personal interest.
The minor in biology is 37-38 credit hours, plus three credit hours of biology courses at or above the 30000 level. You'll take classes in cell biology, evolution, ecology, and chemistry to complete the minor.
What to do with a Biology Degree
Graduates with a BA or BS in biology have a wide array of choices when it comes to employment. Many choose to continue their education on the graduate level in a specific area of study, such as botany, zoology, microbiology, environmental science, medical school, dentistry, or veterinary studies. Others find jobs as biological research technicians, laboratory managers, or wildlife biologists.
The latest statistics from the Bureau of Labor Statistics show that microbiologists earn a median annual salary of $67,550, and medical scientists with an advanced degree earn $82,240 per year. Employment in the life, physical, and social sciences is expected to grow seven percent through 2024, resulting in the creation of about 97,600 new jobs.