Here's what you need to know about getting your diploma:
Graduates, parents, alumni, students, faculty, and staff are invited to celebrate, congratulate, and share using #LindenGrad16.
Sunday, December 11, 2016 at 2:00 p.m.
Graduate and Undergraduate Student Commencement
Commencement will be held Sunday afternoon, December 11, at 2 p.m. at the Gateway Center, Collinsville.
We will confer all education specialist, master, and bachelor's degrees.
Students will line up and march in with their division.
Guests will not need tickets for the December 11, 2016 ceremony. Guest seating will be available on a first-come, first-served basis. The doors will open at 12:30 p.m. at the Gateway Center.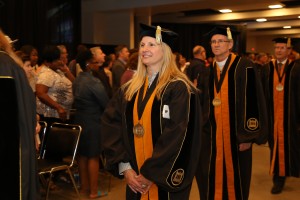 Streaming Video Watch LBTV Coverage of Graduation 2016 December 11 | 2:00 p.m. Streaming Online #LindenGrad16