Commencement 2018
The Lindenwood Stadium | May 5, 2018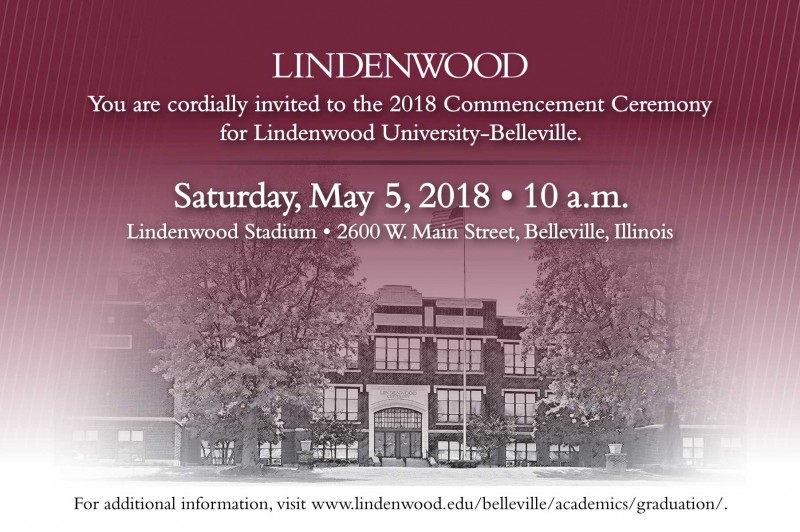 Commencement will be held Saturday morning, May 5, 2018 10:00 a.m. at the Lindenwood Stadium.
All graduating students participating in the ceremony are required to check in for the ceremony at the venue by 9:00 a.m. Students will receive a check-in card. The card includes the student name and line-up information. Please keep this card with you during the ceremony and make sure that you have it when you walk toward the stage. You will present the card to the name reader on stage.
We will confer all undergraduate and graduate degrees.
Students will line up and march in with their schools.
Lindenwood staff members will be present to provide assistance. No security will be available to protect personal belongings. Please do not expect to leave clothing or valuables in the dressing areas during the ceremony.
As a reminder, high heels are not permitted on Lindenwood Stadium's turf field. All graduates must wear appropriate footwear in order to participate in the ceremony. This includes flats or wedges, but not high heels. Thank you for abiding by this to ensure the safety of our graduates!
After the ceremony is complete, we invite you to join us in the Sunken Garden for the President's Farewell Reception.
By participating in the Lindenwood University-Belleville Commencement Ceremony, participants agree that their image or likeness may be captured or used for news or promotional materials.
Legacy Grant Program
We have created a new Legacy Grant Program for students who complete their undergraduate degree at Lindenwood University-Belleville and matriculate onto a graduate program in education or counseling on our campus.