2011 LINDENWOOD ALUMNI MERIT AWARD WINNER

RICK DUREE ('05)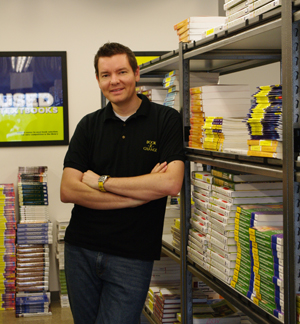 If you drive down First Capitol on your way to Lindenwood's main campus in Saint Charles, you will surely notice "Book-X-Change" prominently displayed on a business—Rick Duree's ('05) business. As an undergraduate, Rick saw a pressing need at Lindenwood, namely a cost-effective way for students to get the books they need for class; so the Book-X-Change was born.

Conveniently located right across the street from the University, the store motto is "run by students for students," clearly demonstrating both Rick's professional and personal commitments to Lindenwood. Rick's wife, his aunt, and his brother, all Lindenwood graduates, help him operate the store, and employees are typically Lindenwood students.

Established in 2005, this business is standing evidence of Rick's entrepreneurial skill. On May 13, 2011, during the Baccalaureate and Graduate Commencement ceremony, Lindenwood University expressed its affirmation by awarding Rick the prestigious Alumni Merit Award, recognizing his many accomplishments and contributions to both his alma mater and his community.

Rick graduated cum laude and with University Honors from Lindenwood's bachelor of arts program in 2005 with a degree in finance and international business. He built his full business and marketing plans for the Book-X-Change in honors classes during his undergraduate years. In 2008, he received his master's degree in International Affairs from Washington University.

In addition to running a highly efficient business, Rick is committed to his many other roles as father, as husband, as a member of his church, and as a contributing member of his community. His wife remains his partner in life and business endeavors, and his children are never far away from the scene. He continues to heed his faith commitments, following his missionary work between 1999 and 2001, which took him to Southeast Asia, evangelizing to the Hmong people in their native language, teaching citizenship classes among Hmong immigrants, and engaging in community service on a daily basis.

At Lindenwood, Rick is acting advisor and corporate sponsor of the Lindenwood Entrepreneurship Club student organization, a frequent presenter and speaker for business entrepreneurship classes, and serves on the Board of Advisors for Lindenwood's business school. As of 2011's fall semester, the Book-X-Change became Lindenwood's official book store. The Book-X-Change sponsors the Student Athlete of the Week on Lindenwood's athletics website and employs Lindenwood students. In his words: "Entrepreneurship builds bridges and forms support systems through networking and relationships – relationships that last a lifetime, which is the type of relationship I have with Lindenwood."

This May, Rick was honored as a St. Charles Chamber of Commerce Employer of the Year in retail and was highlighted in St. Louis' Small Business Monthly as running a "Winning Workplace." Congratulations to you, Lindenwood's 2011 Alumni Merit Award Winner.