2013 LINDENWOOD ALUMNI MERIT AWARD WINNER

CORTNEY HUPPER LENK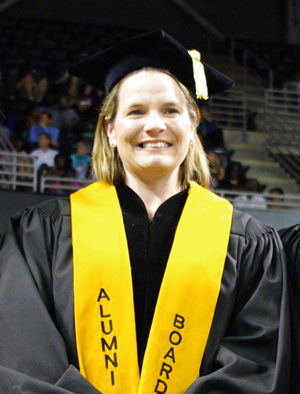 Cortney Hupper Lenk ('99) is the recipient of the 2013 Alumni Merit Award for Service to Lindenwood, which will be bestowed at the Undergraduate Commencement ceremonies on May 18. The Alumni Association's Merit Award Committee, chaired by Judy Forstmann Brown ('67), presented the nomination to the Alumni Board at its February meeting, where it was unanimously endorsed.
"Cortney Lenk is a valued past president of the Lindenwood Alumni Association and works tirelessly to support her alma mater in the community," said Alumni Association President Jan Lewien ('85, '04, '07).
As the Alumni Association President from October of 2005 to October of 2009 Lenk represented the tens of thousands of Lindenwood alumni around the world.
"I am honored and humbled to receive the Alumni Merit Award for Service to Lindenwood," said Lenk. "I am devoted to my alma mater and want to continue my involvement in alumni affairs in the years to come."
A real "Lindenwood for Life" story, Lenk joined the Lindenwood Alumni Association Board of Directors in October of 2002–not long after her graduation in 1999. She received a Bachelor of Arts in human resource management with a minor in business administration. She graduated Summa Cum Laude with a 4.0 grade point average.
"It was important to me to become involved in alumni activities soon after I graduated, because I wanted to start giving back to the school that had given me so much," she said. "I have met many incredible people through my alumni participation, and I am happy that I started developing those relationships so soon after graduation."
During the two terms Lenk served as President of the Alumni Association, she led the group through several historic changes at Lindenwood. Her presidency began during the Dennis Spellmann administration, when she represented the alumni voice with the president as well as at Alumni Association meetings and functions and in her role as the alumni representative on the University's Board of Directors.
"I cherish my years at Lindenwood—not only because of the excellent education I received, but for the friendships, opportunities, and experiences that were afforded me," Lenk said. "The greatest lesson I learned at Lindenwood was always remember your roots but dream big as you look ahead. I learned that from then President Dennis Spellmann, who always stressed the importance of Lindenwood's history as he worked tirelessly to expand and improve the University for its future.
Every time I return to campus I am reminded of this as the University continues to thrive under current President Jim Evans' administration."
As Alumni Board President during the change in University leadership in 2006, she provided an active and valuable alumni communications conduit with the new administration. She also played a key role in the investiture ceremony for new President James D. Evans. Prior to becoming an active member of the Lindenwood Alumni Association, Lenk was active in campus activities and was President of the Lindenwood Student Government Association (LSGA) in 1998 and 1999. During her term as LSGA President she represented Lindenwood students at Lindenwood Board of Directors meetings and was in regular contact with Spellmann about student issues. Recognizing the need for increased communications with alumni constituencies, Lenk supported increased outreach to alums. This is becoming more and more of a reality with the addition of social media outlets for alumni audiences. Lenk is a licensed broker with Crouse Real Estate in Troy, Mo. – the third generation in a family-owned business. She is a member of the Missouri Association of Realtors and the National Association of Realtors. A member of the Sibley Heritage Society, she continues to serve on the Alumni Association Board of Directors.
The daughter of Cecil and Barbara Hupper of Eolia, Mo., she resides in Troy, Mo., with her husband, Adam, and their two children.