2014 LINDENWOOD ALUMNI MERIT AWARD WINNER

JANET RUCKER LEWIEN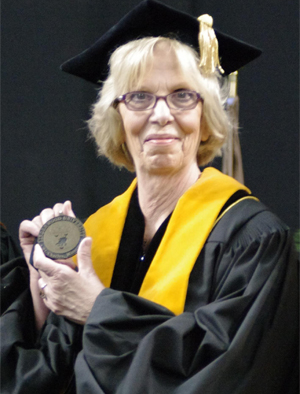 Janet Rucker Lewien ('85, '04, '07) is the recipient of the 2014 Alumni Merit Award for Service to Lindenwood, which was bestowed at the Undergraduate Commencement ceremonies on May 17. The Alumni Association's Merit Award Committee, chaired by Cortney Hupper Lenk ('99), presented the nomination to the Alumni Board at its February meeting, where it was unanimously endorsed.
Lewien's love of the University knows no bounds–in fact she has not one but three Lindenwood degrees.
She has been a member of the Lindenwood Alumni Board since 2007 and served as president of the association from 2009 through 2013. As president, she represented the alumni voice to President James D. Evans, as well as at Alumni Association meetings and functions. She has been active in a variety of alumni activities over the years. In her president role, she represented alumni interests on the University's Board of Directors and served on the Board's Fundraising and Development Committee. A member of the Sibley Heritage Society, she has been an enthusiastic and articulate supporter of her alma mater in the community for many years, as well as a familiar face and willing volunteer at alumni events.
Having received a bachelor's degree in communications in 1985 from Lindenwood as well as two master's degrees–one in written communications (2004) and the other in non-profit administration (2007)–she is currently grants administrator for the Children's Resource Board of St. Charles County. The board awards funds to agencies serving the unmet mental health needs of children and youth in St. Charles County. Additionally, she provides contract grant writing services for a national firm in Rochester, N.Y.
Lewien is very involved in her community, and in her spare time she serves as a board member for the Five Acres Animal Shelter and the St. Charles County Domestic Violence Board. She has served on the Campus "Y" Board and the St. Charles County Arts Council.
A native of Texas, she and her husband, Jerry, live in St. Charles. They have two children, Lisa and David, and one grandson. Lisa's husband, Mark, is also a Lindenwood alumnus.