2015 LINDENWOOD ALUMNI MERIT AWARD WINNER

JOHN M. STEPHENS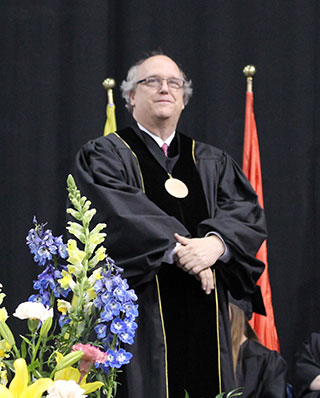 John M. Stephens ('75) is the recipient of the 2015 Alumni Merit Award for Professional Accomplishment, which was bestowed at the Undergraduate Commencement ceremonies on May 16, 2015. The Alumni Association's Merit Award Committee, chaired by Cortney Hupper Lenk ('99), presented the nomination to the Alumni Board at its February meeting, where it was unanimously endorsed.
Stephens' interest and background resides in communications. He was drawn to Lindenwood as a student because of KCLC. Before attending Lindenwood he did a lot of research on the college and discovered Robert Hyland was associated with the school.
"Mr. Hyland is legendary," Stephens said. "There was a strong conduit between Lindenwood, KCLC, and KMOX, and for this reason I wanted to attend Lindenwood with hopes to grab the attention of Mr. Hyland."
During college, Stephens was working at the St. Charles Daily Banner News and did a piece on the St. Louis football Cardinals that caught the attention of the St. Louis Post-Dispatch, where he worked before moving on to CBS TV spot sales. Later, when offered that job at KMOX about which he had initially dreamed, he instead went to New York to work for a large advertising agency.
Stephens made his way back to St. Louis in the '80s to work with the St. Louis Regional Commerce and Growth Association, which asked him to produce a marketing campaign for St. Louis. The "I'm Sold on St. Louis" campaign was the result. He later served as executive editor of St. Louis Commerce magazine.
In 1991 Stephens started Media Pulse, a media tracking and analysis service. Twice, the company was honored by the St. Louis Business Journal as one of the fastest growing privately held business in St. Louis. After expanding into a number of markets around the country, the company was honored by Inc. Magazine as one of the fastest growing high tech companies in the USA. He sold it in 2001 to a publicly held company in Sweden.
Stephens went on to start a new group of companies, including a video production company and a closed caption service, and even went back into the media tracking and analysis business.
"I guess that makes me a serial entrepreneur," Stephens said. "I enjoy the challenges of building a business. "
Stephens says that his experience at KCLC paved the way for his career path. He is a firm believer in the Lindenwood communications educational model, which is rooted in hands-on experience, something that he says is hard to match at any other institution.
"So many Lindenwood communications graduates from my era have become entrepreneurs in media-related businesses," Stephens said. "At Lindenwood, we operated, and managed the radio station. There are direct parallels with what we learned as students and how we developed in our careers."
He sent his daughter, Emily, to Lindenwood, where she is a communications major slated to graduate in 2016, and Stephens continues to hire Lindenwood graduates.
Currently, Stephens owns Pulse Productions, an Emmy Award-winning video production company, and Media Watch, a nationally recognized media tracking and analysis firm.
He was featured in the fall 2014 edition of Connection because of his development of the Internet radio station Our Musical Roots. The station has listeners in 30 countries and is Stephens' "long-term play," he says. Pulse Productions, with its staff of 20, is his job. His goal with "The Roots" is to build a substantial media property, like the FM radio pioneers did in the 1960s, something his daughter may want to be involved with down the road. She works at the station, where she helps out with technical operations, and the afternoon drive host is Charles McDonald, a Lindenwood alumnus.