Tours of Lindenwood University-Belleville are now available from the Day Admissions Office!  Learn more about Belleville's exciting growth and transition from  an extension site  to its present status as a full-service campus in the Lindenwood University system.  
The brilliant business model that has made the historic St. Charles campus one of the fastest-growing independent universities in the nation has led to exponential growth in Belleville as well. We invite you to come and share in our legacy.
From "L Building," where Belleville really began, to the Lindenwood Auditorium, where history is literally written on the walls, to ongoing construction of our state-of-the-art Senator Alan J. Dixon Student Center, you'll see progress in action. Student ambassadors will share the "scoop" on Lindenwood Belleville's impressive development.
For more information or to book a tour, please call the switchboard at (618) 239-6000 and ask to speak with the Student Ambassador Director.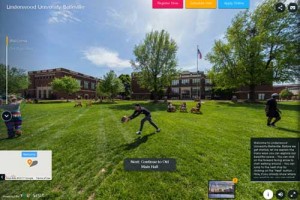 Take a look at our virtual tour and visit campus behind the comfort of your own screen.