Directory
Return to Previous Page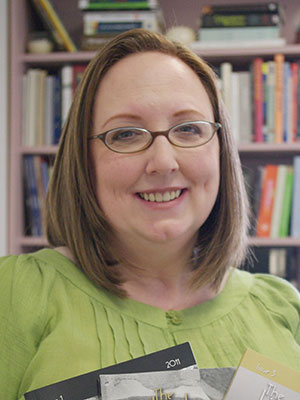 Mead, Beth
Professor, English
School of Accelerated Degree Programs - General Education, MFA, BLS
Cultural Center 207
(636) 949 4524
Bmead@lindenwood.edu
Course Information
---

SU QTR 16
EMF 58999 ARBM
Extension of Graduate Thesis
SU QTR 16
IMF 56000 OL1 ONLNE
Advanced Studies in Literary Journal
SU QTR 16
IMF 56000 OL2 ONLNE
Advanced Studies in Literary Journal
SU QTR 16
IMF 58999 ARBM
Graduate Thesis
FA QTR 16
EMF 58999 OL1 ONLNE
Extension of Graduate Thesis
FA QTR 16
IMF 51400 OL1 ONLNE
Fundamentals of Writing for the MFA
FA QTR 16
IMF 55705 OL1 ONLNE
The Literary Journal: Fiction & Essay
FA QTR 16
IMF 55705 OL2 ONLNE
The Literary Journal: Fiction & Essay
FA QTR 16
IMF 58999 OL1 ONLNE
Graduate Thesis

---
Biography
Beth Mead is a Professor of Humanities and Director of the

MFA in Writing Program at Lindenwood University. She is the Editor of the Lindenwood Review, a literary journal publishing fiction, poetry, and personal essays. Beth received her MFA in Creative Writing from the University of Missouri-St. Louis, where she studied under Mary Troy

and

David Carkeet

. She lives in O'Fallon with her husband, Chris, and her sons, Connor and Casey.
---
Educational and Professional Experience
MFA, Creative Writing, Fiction

University of Missouri-St. Louis, 2004

BA, English, Magna Cum Laude

University of Missouri-St. Louis, 2000
---
Awards
2nd Place, Saturday Writers Fiction Contest, 2012

Jim Haba Poetry Award, 2010

Honorable Mention, River Styx Micro-Fiction Contest, 2007

Nominee, AWP Intro Journals Project's Creative Nonfiction Award, 2004
---
Selected Publications
Flash Fiction: "When the Rain Stops"

Short Fiction: "The Train"

Winner, Jim Haba Poetry Award
---
Presentations
Lewis & Clark Community College Writing Symposium, February 8, 2012

"The Power of Writing"

Saturday Writers, Chapter of the Missouri Writers' Guild, July 28, 2012

"The Craft of Writing Literary Flash Fiction"

Lindenwood University, August 4, 2012

"Teaching College Writing, an MFA Perspective"

UM-St. Louis Qualitative Research Conference: Interpreting Meaning, February 22, 2002

"Teaching Writing as a Shared Experience"
---