Directory
Return to Previous Page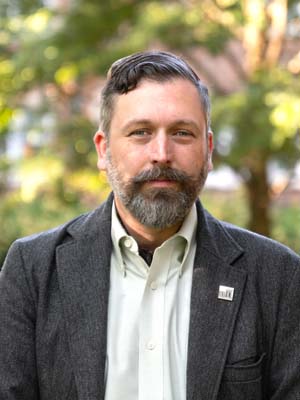 Hutson, James
Associate Professor, Art & Design
School of Arts, Media, and Communications
Scheidegger Center 2035
(636) 949 4863
JHutson@lindenwood.edu
Course Information
---

FA SEM 16
ARTH 22200 11
History of Western Art to 1300 (GE-FineArt/CrsClt)
FA SEM 16
ARTH 22200 H1 HON
Honors History of Western Art to 1300 (GE-FineArt/CrsClt)
FA SEM 16
ARTH 35800 21
Medieval Art (GE-CrsClt)
FA SEM 16
ARTH 36300 11
Early Modern Gender Studies (GE-CrsClt)
FA SEM 16
ARTH 38900 21
Art Theory and Criticism (GE-CrsClt)
FA SEM 16
ARTH 41000 11
Research Methods of Art History
SP SEM 17
ART 19000 SA11 ABRD
Study Abroad: Beginning Black & White Photography
SP SEM 17
ART 29000 SA11 ABRD
Study Abroad: Beginning Painting
SP SEM 17
ART 29001 SA11 ABRD
Study Abroad: Beginning Etching
SP SEM 17
ART 39001 SA11 ABRD
Study Abroad: Intermediate Drawing
SP SEM 17
ART 39002 SA11 ABRD
Study Abroad: Intermediate Graphic Design
SP SEM 17
ART 39817 SA11 ABRD
Study Abroad: Digital Illustration
SP SEM 17
ART 49000 SA11 ABRD
Study Abroad: Advanced Color Photography
SP SEM 17
ART 49002 SA11 ABRD
Study Abroad: Advanced Graphic Design
SP SEM 17
ART 49003 SA11 ABRD
Study Abroad: Web Design II
SP SEM 17
ARTH 22400 11
History of Western Art from 1300 (GE-FineArt/CrsClt)
SP SEM 17
ARTH 22400 H1 HON
Honors History of Western Art from 1300 (GE-FineArt/CrsClt)
SP SEM 17
ARTH 22600 21
History of Non-Western Art (GE-FineArt/CrsClt)
SP SEM 17
ARTH 38300 21
Renaissance Art (GE-CrsClt)

---
Educational and Professional Experience
Dr. Hutson has a BA in Art from the University of Tulsa, Tulsa, OK, where he majored in Studio Art (oil painting) and received a certificate in Museum Studies. Thereafter he earned a MA in Art History from Southern Methodist University, Dallas, TX, specializing in Italian Baroque Art; then moved to College Park, MD to finish his PhD in Art History at the University of Maryland, specializing in Early Modern Art with a minor specialization in Late Medieval Italian Art. He has been teaching since 2006. Before coming to Lindenwood, he taught at Townson University, Townson, MD, University of Maryland, College Park, MD, and American University, Washington D.C.
---
Memberships
Dr. Hutson is a member of the Renaissance Society of America and the Sixteenth Century Society, interdisciplinary organizations that brings together international early modern specialists from History, Literature, Art History, and Linguistics, where he presents annually at conferences around the world. He is also a member of the College Art Association, the largest organization in the United States that unites artists, art historians, museum curators and others in the field of visual arts.
---
Research Interests
Dr. Hutson is an art historian who specializes in early modern intellectual history and art theory. His past articles focus on treatises published by/for artists and how those shaped their careers and artistic goals, especially relating to cosmology, astronomy and anatomy. His latest book surveys the changing understanding of beauty and its origins in the human mind/soul from 1400-1700 in Italy and France.
---
Teaching Interests
As the full-time Art Historian here at Lindenwood, Dr. Hutson teaches the introductory surveys open to all students, and that prepare those in the Art and Design department for advanced study in the field. Additionally, he teaches all advanced classes from Ancient through the Nineteenth Century, along with capstone courses that prepare students for graduate studies.
---
Selected Lectures
"Li pittori parlano con l'opere: Poetry and Practice in the Academic Tradition," Beyond Texts and Academies: Rethinking the Education of the Early Modern Italian Artist, College Art Association Conference, Washington, D.C., February 5, 2016

"Affetti del'animo: A Guide to the Passions of the Soul," Faculty Colloquium, Lindenwood University, November 18, 2015

"L'abbiam fatta tutti noi: Early Modern Collaboration and the Carracci," Sixteenth-Century Open Session, Midwest Art History Society Conference , Minneapolis and St. Paul, MN, March 27, 2015

"Early Baroque Academies: Periphery and Capital," Early Modern Academies of Art II: Theory, Renaissance Society of America, New York City, March 27, 2014




"Francesco Scannelli and the Physiology of Style," Dialectics of Creation I, Renaissance Society of America, Washington, D.C., March 23, 2012

"Anatomical Theory in the Late Renaissance: Astronomy and Proportion Studies," Anatomy in the Renaissance: commemorating Marcantonio della Torre (ca.1481-1511), Renaissance Society of America, Montreal, Quebec, March 24, 2011



---
Selected Publications
Visualizing the Idea: Early Modern Art and Theory (completed book manuscript)




"Le Accademie Bolognese e Romana: Reconsidering Center-Periphery Pedagogy,"

Storia dell'arte no. 141 (ns 41) (Nuova Italia: Firenze, April-August, 2015): 34-56.

"Un modo più chiaro: Francesco Scannelli, Guercino and the Physiology of Style," Storia dell'arte no. 132 (ns 32) (Nuova Italia: Firenze, April-August, 2012): 95-124.

"Renaissance Proportion Theory and Cosmology: Giovanni Paolo Gallucci's Della Simmetria and Dürerian Neoplatonism," Storia dell'arte no. 125/126 (ns 25/26) (Nuova Italia: Firenze, January-August, 2010): 25-61.
---