Directory
Return to Previous Page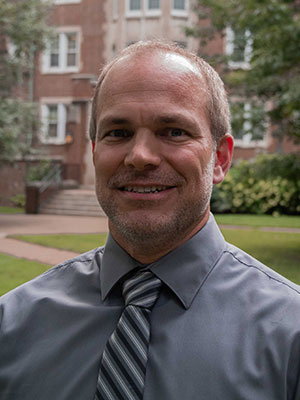 Godar, Thomas
Associate Professor, Athletic Training
Athletic Training
Student-Athlete Center 114
(636) 949 4628
TGodar@lindenwood.edu
Course Information
---

FA SEM 16
AT 37900 11
Current Topics in Athletic Training
FA SEM 16
AT 38500 21
Clinical Experience IV
FA SEM 16
AT 42800 TUT01
Clinical Experience V
FA SEM 16
AT 43300 11
Pathology of Non-Orthopedic Injuries and Illness
FA SEM 16
AT 43800 21
Senior Seminar
FA SEM 16
AT 43900 PIF22
Athletic Training Integrating Experience
SP SEM 17
AT 30200 11
Assessment of Athletic Injuries-Lower Body
SP SEM 17
AT 38100 11
Assessment of Athletic Injuries-Lower Body Lab
SP SEM 17
AT 38400 PIF11
Clinical Experience III
SP SEM 17
AT 42800 PIF11
Clinical Experience V
SP SEM 17
AT 43900 PIF22
Athletic Training Integrating Experience

---
Biography
Tom Godar MS, ATC, LAT is entering his 13th year at Lindenwood University. Godar currently serves as the head athletic trainer for the university football team and the Clinical Education Coordinator for the Athletic Training Education Program. He is also an associate professor in the School of Sport, Recreation, and Exercise Sciences.





Godar holds a Bachelor's Degree in Athletic Training from Southern Illinois University at Carbondale and received his master's degree in Health Management from Lindenwood in 2003.





In addition to his duties at Lindenwood, Godar worked as the head athletic trainer for the River City Rage indoor professional football team in 2002 and was an intern for the St. Louis Rams from 2002-2003. Currently, Godar also functions as the primary representative in St. Louis for the National Football League's Concussion/Injury Spotting Program.





Lastly, Godar is also an instructor for the American Red Cross Professional Rescuer certification.



---