The student worker office is dedicated to meeting the needs of the university as well as the needs of the students. Our students play an integral part in many university departments. In return for this service, student workers are given the opportunity to expand their knowledge base and build new skills. Currently the student worker program employs 1,500 students across two campuses. This program enable students to offset college expenses while providing opportunities for them to expand their knowledge base and skill set.
Eligibility Requirements:
All undergraduate, graduate, and federal work study students are able to participate in the student worker program pending they meet the necessary eligibility requirements and are selected to do so. These requirements are ongoing and students will be immediately released from their position should they fail to meet all requirements.
To be Eligible:
Students must be "unconditionally" admitted to the university
Students must be actively enrolled in classes
Students must be in good standing with the university:
*Any student worker on academic probation is not eligible to participate in the program. The student may apply to the program once the probation is removed.
*Any student worker on social probation is not eligible to participate in the Program.
Lindenwood University employs students through regular part-time and full-time positions and through the Federal Work Study Program. Positions are offered within a 3 Tier structure based on the knowledge and skill set required for each position.
Tier 3 (A/B): Specialized
Tier 3 offer both part-time and full-time positions. These positions require a high skill set and in some cases specialized certifications or training.
Tier 2 (A/B): Administrative
Tier 2 also offers both part-time and full-time positions. These positions require a moderate skill set and salaries vary based on the skill set needed for each position.
Tier 1: Operational
Tier 1 offers only part-time positions and requires more physical abilities.
Students work according to the calendar cycle which is based on a fiscal year (July 1- June 30).
Pay will begin and end based on these dates:
| | |
| --- | --- |
| Number of Weeks | Calendar Cycle |
| 36 | August 15 - May 15 |
| 40 | August 1 - May 31 |
| 52 | July 1 - June 30 |
To view open positions, please click here.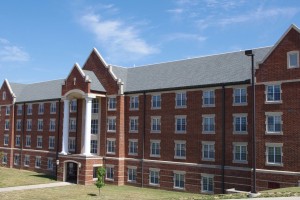 "I feel like Lindenwood's Student Worker Program makes job training its number one priority. They are very dedicated to making sure we understand and can perform our jobs to the very best of our ability."
Federal Work Study
The Federal Work Study positions are for undergraduate students who work 10 hours per week for 36 weeks. Federal Work Study students apply for FAFSA through the Financial Aid Office and receive an EFC (Expected Family Contribution) number. If the number is low enough, as determined by the federal guidelines, the student qualifies for the Federal Work Study Program. A qualification for the Program is not a guarantee of placement within the Federal Work Study Program.
To qualify for the program, a student must:
Demonstrate financial need
Have filed the Free Application for Federal Student Aid (FAFSA) by the Lindenwood University priority deadline
Indicate an interest in part-time work
Are enrolled and admitted to Lindenwood University
Non-Federal Work Program
If you have not received a Federal Work Study award, you may still work in a campus position that does not require a FAFSA or financial need. Lindenwood University hires candidates at the Undergraduate and Graduate levels.
To be considered for the open positions designated for non-work study candidates, you must be "Unconditionally" admitted into Lindenwood University, and you must have attended classes in the prior term, proceeding term, or the term for which you are applying.
Employment lengths vary by position. Lindenwood University is an "at-will" employer and student employees may be terminated prior to their service end date without cause or notice.
After meeting the requirements to be in the program, the Student Worker Office will place the candidate in the position they have chosen. If they do not meet the requirements for the position chosen, or their choice is already occupied, candidates may be placed in a position not previously chosen by the candidate. Please note, some of the positions require an interview before a candidate will be selected.
Equal Opportunity Employer
Lindenwood University is an Equal Opportunity employer. The University complies with appropriate federal, state, and local laws and provides equal employment opportunities and access to educational programs without regard to race, color, religion, gender, age, sexual orientation, national origin, veteran status, disability, or any other protected status to all qualified applicants and employees. Lindenwood University is committed to a policy of non-discrimination and dedicated to providing a positive discrimination-free educational work environment.
Notice of Availability of the Annual Security and Fire Safety Report
Lindenwood University is committed to assisting all members of the community in providing for their own safety and security. The annual security and fire safety report is available on the Lindenwood University Office of Public Safety and Security website.
If you would like to receive a hard copy of the Annual Security and Fire Safety Report, which contains this information, you can stop by the Office of Public Safety and Security at 110 S. Kingshighway, or you can request that a copy be mailed to you by calling 636-949-4687.
The report contains information regarding campus security and personal safety, including topics such as crime prevention, public safety authority, crime reporting policies, fire safety, disciplinary procedures, and other matters of importance related to security on campus. The report also contains information about fire statistics in Lindenwood University residential facilities and crime statistics for the three previous calendar years concerning reported crimes that occurred on campus; in certain off-campus buildings or property owned or controlled by Lindenwood; and on public property that is within or immediately adjacent to and accessible from the campus.
This information is required by law and is provided by Office of Public Safety & Security.