April 21, 2018 | 6:00 p.m. (VIP Reception)
April 21, 2018 | 7:00 p.m. (Runway Show)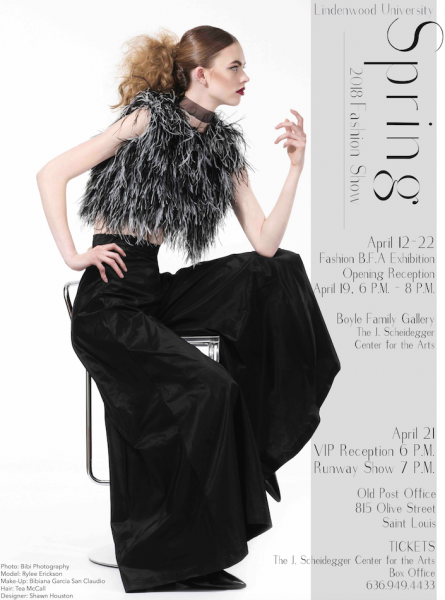 This event will take place at the Old Post Office in the Atrium. 815 Olive Street, St. Louis, MO 63101.

Experience the art and intricacy of fashion in a New York-style runway show. The show features designs by select upper level students showcasing a variety of landmark fashions ranging from ready-to-wear to avant-garde. The collections of these aspiring designers hit the runway blending complexity and innovations. This is a night you don't want to miss.
Advance tickets for this event are only available at the Scheidegger Center Box Office. Please call 636-949-4433.
Also, Join us, April 12-22, for the Fashion Design Exhibition celebrating the work of our BFA students. The exhibition will take place in the Boyle Family Gallery, located inside the J. Scheidegger Center for the Arts. There will be an opening reception on Thursday, April 19, at 6:00 p.m. Please note, the Boyle Family Gallery's hours are: Monday - Thursday: 3:00 p.m. - 8:00 p.m. and Friday - 10:00 a.m. - 3:00 p.m.
Ticket Prices
VIP: $50.00 (Includes 6:00 Pre Show Reception)

General Admission: $40.00

Lindenwood Student & Faculty Tickets: $20.00