ACT INC's will be returning to Lindenwood the summer of 2017 to present John Buchan's The 39 Steps and William Inge's Picnic.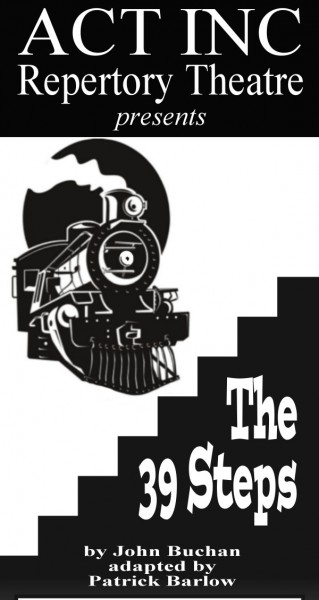 The 39 Steps
Adapted by Patrick Barlow from the novel
by John Buchan
Directed by Rob Grumich
Friday-Saturday, June 9, 10 | 8:00 p.m.
Sunday, June 11 | 2:00 p.m.
Saturday, June 24 | 8:00 p.m.
Sunday, June 25 | 2:00 p.m.

Equal parts Alfred Hitchcock movie masterpiece and thrilling spy novel, The 39 Steps is a high-speed comedy smash straight from Broadway.
A beautiful spy tells a lethal secret to a man she's just met. With that, our hero Richard Hannay finds himself embroiled in a riotous chase across England and Scotland, discovering clues, dodging police, and charming ladies at every turn. With tons of characters played by a small group of actors, the play provides actors the opportunity to perform multiple wildly creative characters in the midst of a fast-paced, hilarious evening at the theater. The 39 Steps is produced by special arrangement with Samuel French, Inc.

Picnic
by William Inge
Directed by Emily Jones

Friday, June 16 | 8:00 p.m.
Saturday & Sunday, June 17-18 | 2:00 p.m.
Friday, June 23 | 8:00 p.m.
Saturday, June 24 | 2:00 p.m.

It's Labor day Weekend in small town America, and we are in the backyards of two middle-aged widows. Flo Owens lives there with her two teenage daughters, Madge and Millie, and a boarder, Rosemary, a spinster school teacher. Helen Potts lives next door with her elderly mother.
Then a drifter, handsome charismatic Hal Carter appears, charming ladies young and old. Will 15 year old Millie grow a bit from her crush on Hal? Will Rosemary decide to seek more than weekend dates from her long time beau? And will 18 year old Madge ignore her wealthy suitor for bad boy Hal? Indeed, a weekend Picnic can change lives.. The Picnic is produced by special arrangement with Dramatists Play Service, Inc.