Lindenwood University is excited to host TEDxLindenwoodU, an independently-organized TED half-day event October 12, 2017, from 2 p.m. to 6 p.m. at the Emerson Black Box Theater in the J. Scheidegger Center for the Arts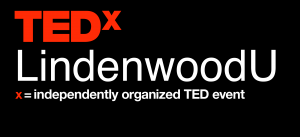 Tickets will go on sale September 7. Student tickets will be $10; staff, faculty, and alumni tickets cost $15, and tickets for the general public cost $20. The Black Box Theater admission will include attendee gifts, vendors, exhibits, and a reception. Tickets can only be purchased by calling the box office at 636-949-4433 or by visiting the Scheidegger Center box office, Monday - Friday, between the hours of 9:00 a.m. and 5:00 p.m.
Free tickets will be available for live streaming locations at the Belleville Welcome Center, the Library and Academic Resources Center Theater and the Anheuser- Busch Leadership Room.
The event will include a diverse group of speakers: university faculty, alumni, and members of the St. Charles community. Speakers scheduled to participate include Dr. Paul Wright, Dr. Robin Grebing, Dr. Alison Albee, Dr. Andrea Boyles, Dr. Javeria Farooqi, Dr. Heather Brown-Hudson, Dr. Justine Pas, Patrick Wallace, Michelle Benedict, and Brryan Jackson. The half-day event will also include performances by Lindenwood University's Lion Line and Jazz Trio Blindsight and a mini fashion show by students from Lindenwood's Fashion Design program.
In TED fashion, talks will range from 5 to 18 minutes. Talk titles include
The Notion of Docide; Rising to the Challenge, Pursing Our Unique Potential
The Smartphone Hostage: The Truth Behind Our Technology Addiction
Rise Above with Mindfulness
Finding Your Particle
Shattering Preconceptions
The Art of Persistence
How to Work College
Overcoming Obstacles of Adversity
Be a Zero
The Socialization and Comfortability of Microagressions.
Event organizers state the goal is to bring together bright minds to discuss ideas that challenge the status quo and expand our horizon. The theme for this event is "RISE." Presentations will be filmed, and the edited version will be hosted on the TED YouTube channel.
To volunteer or for more information, please visit TEDxLindenwoodU.com or contact Toni Josato, TEDxLindenwoodU organizer at ajosato@lindenwood.edu or 636-949-4836.