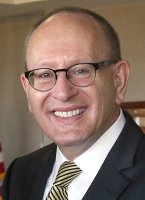 Delegates to the American Association of University Professors annual meeting in Washington, D.C., voted unanimously on Saturday, June 18, to lift the organization's sanction of Lindenwood University. Hans-Goerg Tiede, the organization's associate secretary in the Department of Academic Freedom, Tenure, and Governance, notified Lindenwood University System President Michael D. Shonrock of the decision Monday.
According to a document provided by the association, its Committee on College and University Governance, following a March visit to the campus to meet with members of the faculty and administration, recommended on May 25 the sanction be lifted. The report states that the sanction was put in place in 1994 based on conditions of academic governance at Lindenwood at the time.
The document states that over the last two administrations, conditions for academic governance and academic freedom have improved substantially and that faculty members report that well-functioning structures of shared governance have been reestablished.
"I greatly appreciate our Board of Directors' commitment to academic excellence and support for our faculty," said Shonrock, who took office at Lindenwood in June 2015. "Through the last year, I'm grateful for the work of our provost, academic deans, and Faculty Council, who have all stressed the importance of collaboration, communication, continuous professional improvement, and due process in university business. All of this provides for the best possible learning environment for our students."
Provost Marilyn Abbott further expressed her satisfaction with the decision and credited a joint effort by the entire university community.
I am extremely proud of the way the Lindenwood faculty and administration have jointly embraced the difficult and important work of shared governance," Abbott said. "Their dedication to this effort is an exemplary expression of their commitment to providing a world-class educational experience for every Lindenwood student."
Stephanie Afful, chair of Lindenwood's Faculty Council, spoke to the university's commitment to shared governance.
"Lindenwood has a strong commitment to shared governance as faculty work with their faculty senators and deans to ensure fairness, transparency, and due process in all university business," said Stephanie Afful, chair of the Faculty Council. "Our faculty council and standing committees ensure that faculty have a voice."