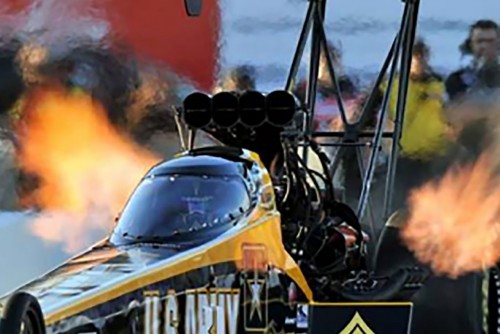 Lindenwood University will display the U.S. Army National Hot Rod Association (NHRA) dragster in front of Evans Commons from 8 a.m. to 2 p.m. on Sept. 21.
Nicknamed "The Sarge," the full-scale display model is a former drag racer that was on display at Lindenwood two years ago. The display will raise awareness for the start of the AAA Insurance NHRA Midwest Nationals in St. Louis, which begin Sept. 23.
Lee Rodriguez, the admissions, scholarships, and enrollment officer for Lindenwood's ROTC program, said the great turnout for the dragster two years ago was a reason to bring it back in 2016.
"We chose Lindenwood because it's a user-friendly school, and the display will be very visible," Rodriguez said.
Evans Commons was chosen as the location for the display because of its central location on campus, Rodriguez said.
"It is our way of highlighting Lindenwood University with an Army national asset to highlight the overall campus to the community," Rodriguez said. "We currently have 24 Lindenwood students on campus with Army ROTC teaching our freshmen and sophomore classes on campus in Harmon Hall."
The U.S. Army colors have adorned the Top Fuel dragster since 2000. In 2016, the U.S. Army Racing Team of drivers will again be comprised of Tony Schumacher and Antron Brown.