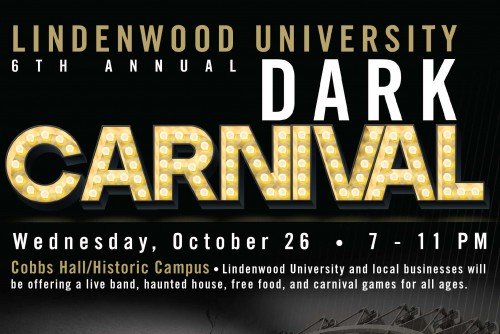 Lindenwood University's sixth annual Dark Carnival will be held from 7 to 11 p.m. Wednesday, Oct. 26, on the St. Charles campus near Cobbs Hall and the Spellmann Campus Center clock tower.
The event, which is free and open to community members of all ages, is sponsored by SSM Health will include two haunted houses, more than 50 booths, and live music by Members Only. Personalities from Emmis Radio's The Point and KSHE will serve as masters of ceremonies.
Event organizer Bryan Stone said he anticipates more than 6,000 people to attend and booth spots for local businesses are still available. The deadline for businesses to reserve a spot is Oct. 14.
"This is an amazing opportunity for local businesses and organizations to come onto campus and showcase the goods and services they offer within our local community," Stone said. "I am so excited to present an event that is available to our local community and allows us and local businesses to give back. What truly separates this event from all other events in the area is the Dark Carnival event, attractions, and booths are completely free."
Lindenwood's campus is located at 209 S. Kingshighway in St. Charles, Mo.