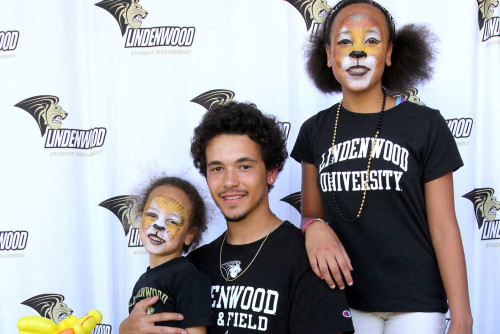 Due to a forecast of rain, some Family Day events will be held indoors. Please visit the Family Day web page for details.
Lindenwood University will hold its seventh annual Family Day on Saturday, Sept. 21, 2019. Family Day serves as an opportunity for parents, siblings, and extended family members to get to know their students' friends, interact with senior administration, attend a football game and a fine arts performance, tour campus, and have fun.
Festivities will begin at 10:30 a.m. at the Honors Reception, leading into Family Day check-in and a Business Expo at 12 p.m. in the Spellmann Center's Anheuser-Busch Leadership Room. An International Festival and Kid's Corner will be offered at 2 p.m. on the Evans Commons Lawn, followed by an ice cream social and the football game. The Expo, International Festival, and ice cream social are free and open to all Lindenwood students and their families.
Families are encouraged to purchase bundles for the weekend, which are available in a variety of options. A $20 bundle includes one football game ticket, admission to all other athletic events, one Family Day t-shirt, and a meal voucher for the Spellmann Center Dining Hall. A $10 bundle includes one Family Day t-shirt and a meal voucher for the Spellmann Center Dining Hall. Family Day t-shirts are available for $5 and can be purchased online with the bundles. Bundle ordering deadline is Sept. 16.
We recognize and appreciate the supportive roles families play in the success of our students and the University community. To honor the supportive role families play in the success of their students, one family will be recognized with a Family of the Year award during the 2019 Family Day.
All full-time Lindenwood graduate and undergraduate students for the fall 2019 semester are eligible to nominate their immediate families, including parents/guardians and siblings, by submitting an application and answering all required questions. The winning Family of the Year and its nominating student must be able to attend Family Day 2019 on Saturday, September 21, 2019.
Prizes for the Family of the year include a gift basket containing Lindenwood apparel and merchandise; Family Day bundles for up to five family members, including Family Day t-shirts, meal vouchers, and football tickets; and recognition at halftime of the Lindenwood football game. Please direct any questions about Family Day to Rachael Heuermann at rheuermann@lindenwood.edu.