Lindenwood University is launching a new public safety app, LindenGuard, that provides a selection of tools to enhance public safety on campus for students, faculty, and staff.
The app, powered by Rave Guardian, is now available for students on the St. Charles and Belleville campuses. It affords users the ability to call Campus Public Safety & Security or 911 with the touch of a button. Another feature of the app allows users to report a tip to Public Safety in real time through a chat session, including pictures if need be. Rave states the app is like a blue light safety kiosk that users carry with them.
The app also includes a safety timer feature to use if, for instance, a user needs to walk alone on campus after a late-night study session. The user would set the timer based on the expected length of the walk, and if it runs out before the user stops it, a set of "guardians" selected by the user before the session will receive a notification, including the user's location.
The system relies on users to build a network of guardians among their friends and family members for the safety timer feature. The user may select Public Safety & Security among its guardians for a safety timer session, but that is not required.
Finally, through the app, emergency alerts issued through the Rave system can be received as notifications, adding to the list of current options: text message and email, principally. Thus, a user who does not have phone service but has access to Wi-Fi can still receive alerts.
"LindenGuard provides our campus community yet another tool to enhance their safety and well-being," said John Bowman, director of public safety and security on the St. Charles campus. "We encourage everyone to download it and set up a profile."
For additional information, including frequently asked questions, click here.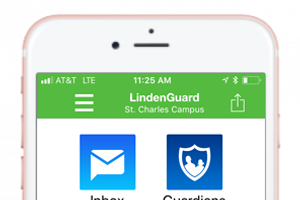 Download LindenGuard Today!
LindenGuard is available for both iOS and Android devices. Search for Rave Guardian.