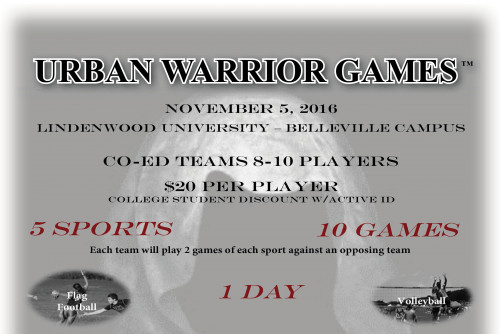 Lindenwood University-Belleville will host Urban Warrior Games from 8 a.m. to 5 p.m. Saturday, Nov. 5, from on campus, 2600 W. Main Street, Belleville.
This event is a day-long competition where teams consisting of 8 to 10 players compete in flag football, kickball, dodge ball, soccer, and volleyball. Teams will go toe-to-toe for 10, 30-minute games with each team playing two games of each sport against an opposing team.
This event is open to students, faculty, staff, and the members of the public who are 18 and older. Teams must be co-ed, with a 60/40 split between males and females.
The cost per player is $20; current college students with a valid college ID will receive a discounted rate.
Teams register in advance online at www.urbanwarriorgames.com, and sign-in for the games opens at 6:30 a.m. the day of the event with competitions beginning at 8 a.m. Teams must provide their own shirts, with approval from competition organizers so that no two teams have the same color shirts. All equipment will be provided, and food will be available to purchase during the lunch break.
For more information, contact event organizer Ted Burden at (618) 671-6162 or TBurden@lindenwood.edu.