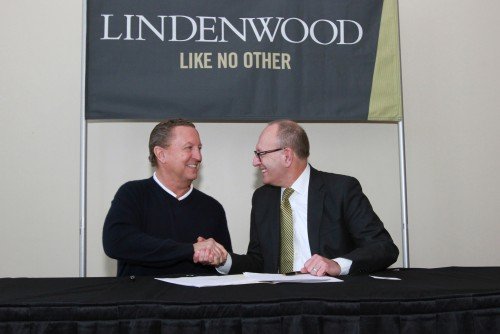 Lindenwood University has signed a lease for 32,000 square feet of space at the Old Post Office at Ninth and Olive Downtown and is moving its Wildwood and St. Louis accelerated degree program operations there April 1.
Lindenwood System President Michael Shonrock, Ph.D., signed the agreement March 8, more than quadrupling the university's space Downtown. Lindenwood had previously operated at a location on Washington Avenue since 2008.
"We are very happy to expand our academic offerings in Downtown St. Louis," said Shonrock. "We outgrew our current space and wanted to strengthen our commitment to urban education, like no other."
Shonrock signed the agreement with DESCO Chairman Mark Schnuck.
"We couldn't be happier to welcome Lindenwood to the Old Post Office," said Schnuck. "The decision has inspired us to fly banners saluting all our tenants and to upgrade the external lighting and signage on one of the region's most significant and historic landmarks."
Lindenwood will be the anchor tenant at the historic facility. Other tenants include the Missouri Court of Appeals, the St. Louis Public Library, FOCUS St. Louis, the St. Louis Business Journal, the Missouri Attorney General, the Missouri Secretary of State, the Missouri Department of Health and Senior Services, the Missouri Arts Council, and Rosemann Architects.
DESCO and DFC Group finished the restoration of the landmarked Old Post Office in 2006. The Old Post Office was built in 1884 as a testimonial to the strength of the United States following the Civil War.
"More and more higher education institutions are seeing the benefits to expanding their schools in Downtown St. Louis," said Mayor Francis Slay. "I am very happy to welcome Lindenwood students and staff to our growing community. This commitment is a testament of Dr. Shonrock and the developers' civic leadership that they have chosen to invest in the heart of the region."
Lindenwood University operates nine accelerated degree sites in the St. Louis region.