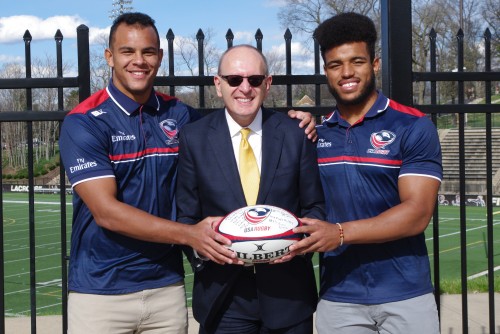 Lindenwood rugby players Malon Al-Jiboori, Deion Mikesell, Lorenzo Thomas, and Chance Wenglewski were chosen for the USA Rugby AIG Men's Junior All-American (MJAA) team and will compete in Zimbabwe this month.
The coach of Team USA is a familiar face to the Lions players on the national squad, because he is also their coach at Lindenwood, JD Stephenson.
"I'm extremely proud that our program has four USA U20s (under-20) players," Stephenson said. "We are on par with the University of Arizona as the most represented collegiate program."
Al-Jiboori, a freshman who plays second row, says he is excited to play in Zimbabwe.
"It means a lot to be on the USA team," he said. "I never take it for granted. There are hundreds of kids who want to represent their country at the international stage, and not everyone gets an opportunity to put that USA jersey on. It's really a special moment."
Thomas agreed with Al-Jiboori.
"It feels great to be recognized as one of the best in your country," said Thomas, a freshman centre. "It's really an honor to play for something that's bigger than yourself."
Stephenson said the success of the national rugby programs help validate collegiate programs, which leads to more participation and opportunities for players. He praised Lindenwood for its support of the rugby program and collegiate athletics in general.
"This is a reflection of our university's support of collegiate sports, not only financially but with the time and academic commitment that is provided from the top," Stephenson said. "It's the pinnacle of student-athlete development in our university."
Team USA's first three matches in pool play are scheduled against Namibia, Hong Kong, and Spain, beginning April 14. The winner of its pool plays the winner of the second pool, consisting of Fiji, Samoa, Uruguay, and Zimbabwe, for the U20 championship.
Pictured - Lindenwood rugby players Lorenzo Thomas (left) and Deion Mikesell present President Michael Shonrock with a USA rugby ball.