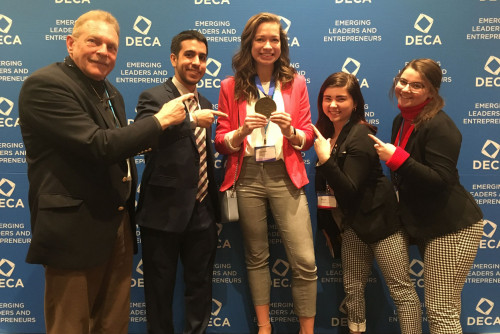 Congratulations to Allison Barry (center), who received first place or DECA Gold in the team case study category of Sports & Entertainment at the Collegiate DECA Conference – ENGAGE – held the weekend of November 21-23 in Chicago.
Allie Barry is a junior in the Plaster School of Business & Entrepreneurship, majoring in marketing with a double minor in human resources management and sports management. Pictured left to right are Craig Felzien, DECA advisor and director of the Duree Center for Entrepreneurship in the Hammond Institute, and other participating team members, including Erwin Reyes, Bella Rainey, and Isabel Holloway. More than 1,000 college students from across the United States and Canada attended the annual conference providing opportunities for students to engage with leading professionals through networking, corporate visits, and case study competition.
For more information about Lindenwood's Collegiate DECA Team, please visit the website.