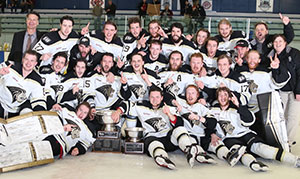 Lindenwood University's men's ice hockey team was crowned the 2016 American Collegiate Hockey Association (ACHA) Men's Division I National Champion with a 2-1 victory over Iowa State Tuesday night at the Edge Ice Arena in Bensenville, Ill. The Lions fell behind early but rallied in the final 21 minutes of game action to take the title, the third overall for the program and the first since 2010.
Late in the first period, the Cyclones got the all-important first goal of the game. At the 19:31 point in the second period, senior Stephen Bopp, playing his last moments in a Lindenwood jersey, ripped a shot to the back of the net with help from Jordan Klimovsky and Lukas Daniels, tying the contest at one point each.
The team that scored next would have momentum, and the Lions managed to do just that when freshman forward Tommy Heinzman set up sophomore forward Mike Lozano at 6:47 in the third. As Iowa State scrambled to find an equalizing goal, a boarding penalty was called with only 2:21 on the clock, leaving the Lions short a player. Iowa State applied more pressure, pulling its goalie to add another offensive player with 66 seconds left. Despite the advantage, the Cyclones couldn't get the puck past the Lindenwood net-minder, and the Lions hoisted the championship cup.
Lindenwood outshot Iowa State 31-23 and after a tremendous effort in the semifinal game, goalie Michael Hails turned in another great performance, with 22 saves on the 23 shots he faced. Hails was named the First Star of the Game.
The Lions finish the 2015-16 season with an overall record of 27-10-0.
If you missed the national championship game, you can view it on Go Live Sports Cast's website.