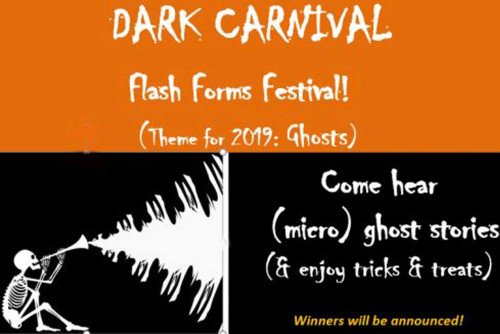 The School of Humanities and the MFA in Writing program co-hosted a Flash Forms Festival on Wednesday, Oct. 23, from 7 to 8:30 p.m. in McCluer Hall's Piers Stewart Lounge as a part of Lindenwood University's Dark Carnival.
The Flash Forms Festival was made possible due to a generous grant from the Alpha Chi National Honor Society.
Dean of Humanities Kathi Vosevich, who is also vice president of the executive board of the Alpha Chi national honor society, stated the grant was very prestigious and the largest that the Alpha Chi National Honor Society offers.
"We hope this becomes an annual event to promote scholarly creativity, as well as instill a sense of community among faculty, students, and alumni," Vosevich said. "This year's event helped to articulate the value of creativity to synthesize and analyze and story-tell important ideas—all real and valued skills that graduates can bring to the workforce upon graduation."
This inaugural event included an evening of storytelling by Lindenwood MFA in Writing students and undergraduate students. The theme was ghosts, which fit the overall atmosphere of Dark Carnival, a campus Halloween festival for the community.
​Prizes were awarded to four students following the event. First place was awarded to MFA student Fred Demian for "Faith's Haunted House." Second place was awarded to undergraduate student Emerson Holmes (he, him, his) for "How-to Guide for Fighting off Your Poltergeist." Third place was a tie between MFA student Diane Tennant for "A Ghost of Herself" and MFA student Casey Hoercher for "The Gallows."