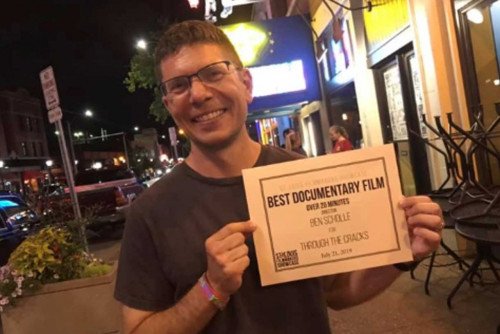 Ben Scholle, director of cinema arts at Lindenwood University, recently won the Best Feature Documentary award from Cinema St. Louis for his film Through the Cracks. The film was screened at Washington University's Brown Hall on July 14, as a part of the organization's St. Louis Filmmakers Showcase.
He received the award at a ceremony on July 21, in the Blueberry Hill Duck Room. Prizes are awarded by a panel of judges, which include local filmmakers, critics, and educators. Scholle was also selected to screen in November at the St. Louis International Film Festival.
"I'm extremely grateful to all the LU students, alumni, and colleagues who offered assistance and advice during the production and editing of this film," said Scholle. "We have an amazing wealth of talent and expertise on our campus, and our academic community has been an incredible resource."
Prior to Scholle's screening, he joined KTVI, Fox 2, on July 12 for an interview where he gave more details about the upcoming showcase.
Scholle is a two-time award winner. He won the same award in 2006 for the feature documentary HairKuTT.
"It's truly an honor to receive this award, especially because I know from past years how strong the competition is and how hard the judges work to select a winner," he said.