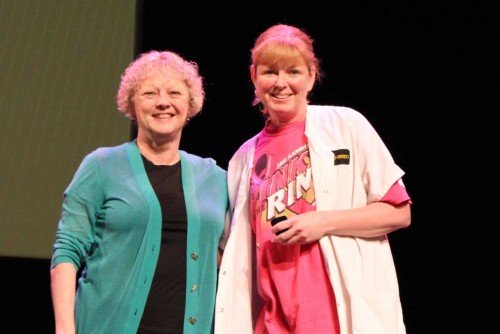 On Wednesday, April 5, 2017, Lindenwood University staff employees gathered at the J. Scheidegger Center's Lindenwood Theater for an all-staff meeting organized in conjunction between the Staff Council and the Human Resources Office.
In addition to brief departmental updates, the event provided an opportunity to honor university staff employees celebrating years-of-service milestones. This was the third annual years-of-service recognition event and the first to take place during the annual all-staff meeting.
Gold plated pins with the corresponding year milestone were individually presented to each honoree in attendance by Dr. Deb Ayres, vice president for human resources. Milestones recognized were those completed between July 1, 2015, and July 2, 2016.
In total, 24 employees were recognized for 5, 10, and 20 years of service with the University.
Five years: Aaron Weldon, Anna Girdwood, Brittany Brown, Candice Brooks, Denise Brinkmann, Edmund Kues, Jeremy Opfer, Lisa Hundelt, Marcus Scheer, Michael Bollenbach, Nenad Todorovic, Phillip Vida, Sarah Johnson, Steven Wolk, and Woody Ellis.

Ten years: Michael Dorlac, Daniel Ingram, Christina James, Rene Meyer, David Powell, and Richard Platt.

Twenty years: Carrie Green, Chanda Jackson, and Adam Ulrich.
A reception followed the meeting, featuring appetizers, refreshments, and live piano music performed by student Vincente Guiffrida in the grand lobby.
On May 3, faculty employees will recognize years of service achievements for the 2015-2016 academic year and honor faculty retirees for the current 2016-2017 academic year.
Photo cutline: Dr. Deb Ayres (left) and Carrie Green (right)