Lindenwood University's Theatre Department will present a production of Legally Blonde: The Musical at 7:30 p.m. on Oct. 29-31 in the Broadway-style Lindenwood Theater.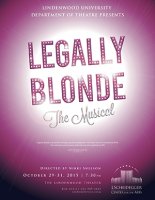 Tickets for the production cost $10-$18 and are available at the Lindenwood Box Office, (636) 949-4433, or online at LUBoxOffice.com. The Box Office and the Lindenwood Theater are located in the university's J. Scheidegger Center for the Arts, 2300 West Clay St., in St. Charles, Mo.
The musical, based on the Amanda Brown novel and MGM movie of the same name, debuted on Broadway in 2007 and is directed by Nikki Snelson, a St. Louis native and 20-year veteran of Broadway who was recruited by Emily Jones, chair of the Lindenwood Theatre Department, to direct the production.
"To have a director with her amount of professional experience directing a student production is unprecedented at Lindenwood and provides our students with a learning experience that is hard to come by," Jones said. "Snelson's direction sets the bar higher than ever before for our students, providing new challenges and perspectives that have resulted in a fun, exciting, and unique production."
The winner of numerous national and international awards, the musical follows the transformation of Elle Woods (Mallorie Carney) from socialite to law student, along the way tackling stereotypes, snobbery, and scandal, all with memorable songs, dynamic dances, humor, and heartwarming touches. The music and lyrics were written by Laurence O'Keefe and Neil Benjamin. Other cast members include Alexis Baker, Caroline Wright, Shenell Randall, Benjamin Wegner, Jennifer Jenkins, John Fisher, Jess Lawrence, Jamie Greco, Natalie Krivokuca, and April Nigus.
For more information about the Lindenwood University Theatre Department, contact Emily Jones at ejones1@lindenwood.edu or (636) 949-4838.
Lindenwood University, founded in 1827, is an independent liberal arts university offering more than 120 undergraduate and graduate degree programs in diverse areas of study in traditional and accelerated formats. Lindenwood operates residential campuses in St. Charles, Mo., and Belleville, Ill., as well 10 regional centers and numerous extension sites throughout Missouri.