Visit this page for MFA program updates and upcoming event information.
5.1.18
2.13.18
MFA NEWS - Poetry Contest, Student Research Conference, and more


1.29.18
AUTHOR EVENT - April 25 at 7pm - Dunseth Auditorium in Harmon Hall
LU MFA Craft Talks Presents an Evening with Author Ann Leckie
Hugo, Nebula, Locus, & Arthur C. Clarke award winning author Ann Leckie will share her expert insights on crafting a compelling story.
Join us on April 25, 2018, at 7pm in Dunseth Auditorium in Harmon Hall on the main Lindenwood University campus (209 S. Kingshighway, St. Charles, MO 63301).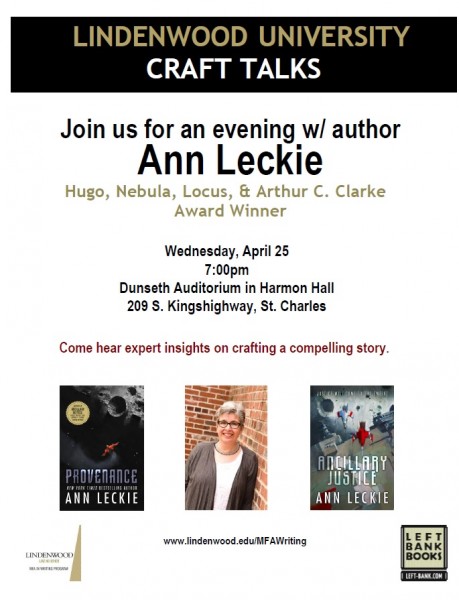 11.27.17
Winter MFA Reading
The MFA in Writing Program at Lindenwood University presents literary readings by soon-to-be graduates and alumni in the theater of Lindenwood's new LARC building. Come listen to wonderful stories and poems and enjoy delicious refreshments as we enter the holiday season. Hosted by Gillian Parrish.
Friday, December 15, 2017 - 7:00 p.m. to 9:00 p.m. - LARC Theater - Room 343
Readers: Kristen Atkinson, Aslan Demir, Chris Duggan, Susan Edele, David Gilmore, Tiffany Grantham, Erica Jackson, and Billy Thrasher
10.6.17
Lindenwood MFA in Writing Alum Named Poet Laureate
Congratulations to LU MFA alum Kaecey McCormick, who has been named the 2018-2019 Cupertino Poet Laureate!
Per the City of Cupertino - City Hall:
Cupertino City Council approved the Cupertino Library Commission's recommendation to appoint Kaecey McCormick as the new Cupertino Poet Laureate.
Kaecey is a poet, writer, artist, and teacher. She believes poetry can change the way we view ourselves and others, the way we see where we live, and how we live our lives.
The City looks forward to her contribution to the community.
5.9.17
Gillian Parrish Joins MFA Faculty
We are very happy to welcome Gillian Parrish to our Lindenwood University MFA faculty. Beginning in July, Gillian will join us as an Assistant Professor of Writing and an MFA Advisor. She will assist the MFA Program Director and will work to enhance the on-campus program experience for our MFA students.
Gillian Parrish comes to Lindenwood from Washington University, where she earned her MFA as a Writing Program Fellow, and went on to serve as a creative-writing instructor, student advisor, and member of the Teaching Center. Her poems and essays have appeared in various journals, including Faculty Focus, EarthLines, American Letters & Commentary, Gulf Coast, and Volt. She has enjoyed teaching creative writing in various settings in the St. Louis community and curating a journal that features new work by poets and conversations with artists from around the world.
4.20.17
MFA Award Winners at the 2017 SRC
Congratulations to our MFA students who won first and second place in the 2017 Student Research Conference at Lindenwood University! Excellent work was done by all of our MFA students who participated in this event. SRC 2017 photos are available on the Lindenwood University Facebook page.
1st Place: McKenzie A. Frey - "Wishing it Was Any Other Day but Today, With You"
2nd Place: Dane Gasparovic - "Route to Isolation"