IMF 53712
Selected Emphases in Fiction V:
Monster Fiction
Instructor: Gillian Parrish
Class Type: Literature
Course Description
Monster means warning, omen, admonisher, reminder, instructor. Sometimes they come as harsh helpers, odd confidants, strange spouses (fanged, furry, finned), sad outcasts, wrathful rectifiers. Whatever form they take, monsters are cast as opaque "others" reflecting our own fears and failures. As such, monster fiction reveals external and internal pressures that shape our characters: old wounds, mistakes and missing pieces, subversive strengths, and slow growing powers.
In this course, we will read and riff on exemplary contemporary material that will open up possibilities for your own writing. These stories do what we must do as writers, dig deep inside and look closely outside to craft fresh, relevant works. Monsters are old things, and our readings often include mythic figures--vampire, kappa, ogre--all employed to explore some of the pressures on our present world, ranging from biotech and eco-crisis to bullying (LGBTQ+ others) and depression (and healing and release), and, of course, the age-old struggles of love and loss. Our authors include Patrick Ness, Sofia Samatar, Jeff Vandermeer, Isabel Yap, Max Gladstone, Shalini Srinivasan, and Ann Carson.
Writing exercises rooted in our readings will spark ideas and spur new work. Towards the end of our time together, you will choose a well-made monster story or scene exploring its strengths and focusing on a particular element of craft--which will help hone your own writing and provide insights to our learning community. Expect to emerge with some finished flash to send out for publication!
Required Textbooks
A MONSTER CALLS
Author: Ness
ISBN: 9780763692155
Publisher: PENG RAND
WONDERBOOK:
Author: Vandermeer
PUBLISHER: HACHETTE B
ISBN: 9781419704420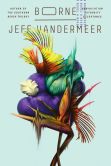 BORNE: A NOVEL
Author: Vandermeer
ISBN: 9780374537654
PUBLISHER: MAC HIGHER