Service-Learning merges the concept of civic responsibility and community-based learning by connecting students of all ages with service opportunities abroad. By partnering students with community-based organizations and following a structured, reflection-based curriculum, participants develop intercultural and leadership skills in a real-world context while learning how local experts are addressing issues with the available resources.
Opportunities are available in the following community sectors:
Community Development
Education
Environment
Family and Youth Development
Health
Human Rights
Locations include Australia, Chile, Costa Rica, Dominican Republic, Ireland, Morocco, New Zealand, Peru, South Africa and Spain.
Visit ISA for more information on the opportunities available.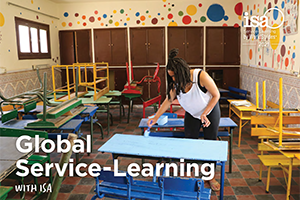 Global Service-Learning with ISA
ISA Service-Learning connects you with communities abroad by providing a unique opportunity to observe real-world issues and the social initiatives created to solve them.

View Guide (PDF) Visit ISA