Associate Research Fellows - Spring 2018
Richard Gebauer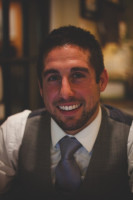 Richie Gebauer is the Executive Director of the First Year Experience and Student Transitions at Cabrini University in Philadelphia, PA and also serves as the Faculty Director of the IMPACT Living and Learning Community teaching writing, social justice, English and leadership studies coursework. 
Gebauer is currently a doctoral candidate pursuing an EdD in Educational Leadership at Cabrini University. His research investigates the impact of learning communities on the practice of integrative learning in academically at-risk students. His previous degrees include a BA in Psychology from Franklin and Marshall College and a MEd in Counseling Psychology with a concentration in College Student Personnel Administration from James Madison University.
Research Summary
Considering the high rate of academically underprepared students entering college, this study focuses on the effectiveness of one specific high impact practice – the implementation of learning communities – and its influence on integrative learning practices of academically at-risk first-year students at a small liberal arts university. Relying on AAC&U's VALUE Initiative to define integrative learning, this study seeks to determine whether intentionally designed curriculum and co-curriculum assists students in integrating knowledge across contexts.
The research questions guiding this case study, which utilizes a quasi-experimental, non-equivalent group design, to determine whether intentionally designed learning communities integrating remedial and content-based coursework with supportive co-curricular programming can close the educational gap and prepare academically at-risk students to produce academic work that exhibits integrative learning practices at the same level as non-at-risk students. 
This research is critical due to the increase in students in remedial coursework who have specific needs not always met by traditional remediation.
Barbara Primm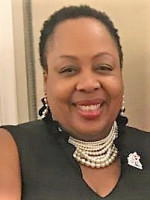 Barbara R. Primm, MBA, MEd is seeking her doctorate degree in Instructional Leadership, Andragogy at Lindenwood University.  Ms. Primm serves as the Department Chairperson of General Studies and the Bachelor of Science in Applied Management at Ranken Technical College and is the founder and Executive Director of LEAP, Inc., Literacy & Education Applied with Purpose. Current professional memberships include Kappa Delta Pi, AAUW, and the American Evaluation Association.
Barbara's research interests include exploring academic barriers in higher education, utilization of andragogical methods in post-secondary classrooms, and integration of problem-based instruction in technical colleges' general studies curriculums.
Research Summary
This study investigates the relationship between problem-based learning, motivation and engagement (as measured by the Motivational and Attitudinal scale) self-directedness, and academic achievement of technical students enrolled in general studies courses at a Midwest technical college. The intended purpose for the study is to identify if tactile learners, who currently spend 75% of their program in hands-on instruction, would benefit from the implementation of a Problem Based Learning (PBL) format in general studies courses. Career Technical Education prepares students for the workforce. Creating an academic learning platform that mimics technical instruction where students solve real problems can encourage students to take an active role in learning. This study will highlight if the PBL model in general studies courses creates a change in learning for technical students.
Ms. Primm will utilize a mixed method approach, primarily qualitative using open-ended interviews, a focus group, and observations. Another aspect of this study is to compare the traditional learning model to the PBL model using end of course surveys and student evaluation data utilizing a Likert scale survey.
Associate Research Fellows - Fall 2017
Monica D'Antonio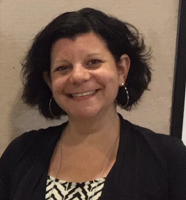 Monica D'Antonio is currently pursuing her PhD in Educational Psychology at Temple University in Philadelphia, PA. Under the guidance of her advisor and mentor Dr. Avi Kaplan, Monica has been conducting research on community college students' identity exploration/development and motivational processes within developmental writing courses. She is currently working on her dissertation and hopes to complete her degree by the end of the spring 2018 semester. In addition to her doctoral work, Monica also teaches developmental writing courses at Montgomery County Community College in Blue Bell, PA. She lives in Norristown with her husband, Hal, and cat, Jeter.
Research Summary
The purpose of my qualitative research study is to examine community college students' experiences in a developmental writing course that includes an identity exploration intervention targeted at enhancing students' motivation, writing skills, and identity development as writers and as students.
Data has been gathered from 15 developmental writing students (60% female, 40% male; 30% White, 30% Black, 10% Asian, 10% Latinx; 20% other; Mean age = 20.3) in two developmental writing courses over the 2016-17 academic year.
In this study, I conceptualize student identity according to the Dynamic Systems Model of Role Identity (DSMRI)—a multidimensional dynamic model of identity development and motivational processes—to investigate the motivational, engagement, and learning processes elicited by a pedagogical approach that I designed and applied to course activities on the basis of four complementary principles for promoting students' identity exploration around academic writing: promoting self-relevance, triggering identity exploration, enhancing a sense of safety, and scaffolding exploration strategies (PRESS model).
In using the PRESS model to facilitate identity exploration in the class and the DSMRI model to evaluate students' experiences, the study aims to acquire a better understanding of developmental writers' complexity, dynamism, and uniqueness.
Lauren Gih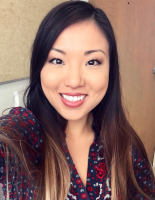 Born and raised in Torrance, CA, Lauren has worked with students in special and general education, as well as at the post-secondary level.  She graduated Magna Cum Laude with a B.A. in Psychology from California State University Channel Islands and a M.S. degree in Psychology from the University of Southern California. 
Currently, Lauren is a Doctoral Candidate of Education at Concordia University Irvine and a Teacher Credential Candidate at California State University Long Beach.  Lauren's doctoral research expertise includes educational equity, specifically the investigation of how campus climate contributes to the performance of minority students. 
Research Summary
Lauren's doctoral dissertation investigates the role of campus climate on the undergraduate experience using an adapted questionnaire, The Perceived Campus Climate Inventory. 
The research questions guiding this study examine the relationship of perceived discrimination on student performance, compared by group demographic variables, such as gender, ethnicity, and religious affiliation.
This study is interested in discovering if students feel they are being discriminated against, how discrimination is expressed, and the effects of a perceived hostile campus climate on student outcomes. 
Furthermore, discrimination as a cyclical entity is explored to gain insight into if students who feel discriminated against hold higher discriminatory feelings against their peers and faculty. 
The importance of this research is supported by the significant discrepancies in post-secondary degree attainment between students based on ethnicity and socioeconomic status. 
Thus, this study aspires to grant insight into the experiences of diverse students based on their demographic profile.