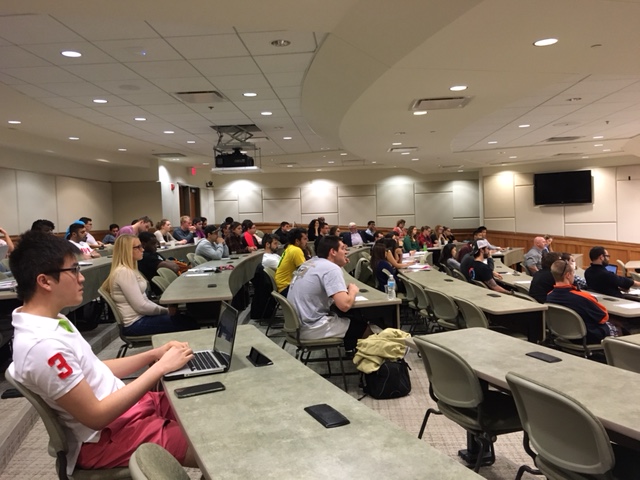 SPRING 2018
BUSINESS ETHICS PANEL
LINDENWOOD UNIVERSITY –
DUNSETH AUDITORIUM IN HARMON HALL
Date/Time TBA (Panel Discussion + Q & A)
Printable Map - Building #24
Local community leaders, faculty, staff and students have a bi-annual opportunity to attend an informative, engaging Business Ethics Panel at Lindenwood University in St. Charles. These sessions focus on real-life ethical dilemmas experienced by local business professionals, and include their firsthand, personal approach to resolution.
Check our Upcoming Events page for more details!
Past Events and Conferences
Spring 2016 Business Ethics Panel
Students and business leaders discuss and explore real-life ethical challenges. Co-hosted by the Liberty & Ethics Center and the St. Charles Rotary Club.
Exhibit and Presentation, The World Knew: Jan Karski's Mission for Humanity
November 1-13. Co-sponsored by the Liberty & Ethics Center and the Center for International and Global Studies.
Criminal Justice Reform Mini Summit
November 2, 2015. Left, Right, and Center Coming Together to Reform Missouri's Criminal Justice System.
Conference: Capitalism, Crony Capitalism, and the Common Good
Keynote: Grover Norquist and Ralph Nader
Paul Patterson, St. Louis in Black and White
Paul Patterson of Restore St. Louis.
Watch an interview on Free Exchange
Fall 2014 Business Ethics Panel
October 2014. Students and business leaders discuss actual ethical quandaries. Hosted by the Liberty & Ethics Center and the St. Charles Rotary Club.
Megan McArdle, The Up Side of Down: Why Failing is the Key to Success
October 8, 2014. Megan McArdle is a journalist and blogger based in Washington, DC. She writes mostly about economics, finance, and government policy from a libertarian perspective.
Kit Wellman, Is the US Criminal Justice System a Crime Against Humanity?
February 19, 2014. Kit Wellman, Washington University in St. Louis
Free Exchange interview below.
Tom Woods, Virtues and the Market: Allies, Not Enemies
November 20, 2013. Tom Woods is a New York Times Bestselling author of 11 books, senior fellow of the Ludwig von Mises Institute, and is creator of Tom Woods's Liberty Classroom. His most recent bestsellers are Rollback: Repealing Big Government Before the Coming Fiscal Collapse and Nullification: How to Resist Federal Tyranny in the 21st Century.
David Beito, Black Maverick: T.R.M. Howard's Fight for Civil Rights and Economic Power
Conference: Free Markets and Localism
April 12-14, 2013, Free Markets and Localism Conference - Carey Roberts of Liberty University delivered the keynote address, "Spontaneous Order and the Origins of American Freedom." 
Other speakers included Howard Wall of Lindenwood University, Gregory Beabout of Saint Louis University, Donald Livingston of the Abbeville Institute, William Charron of Saint Louis University, Ronald Rosenberg of Fontbonne University, and Julie Rubio of Saint Louis University. 
Events were held in various locations on Lindenwood's St. Charles Campus; historic Main Street, St. Charles; and the Historic Daniel Boone Home and Heritage Center in Defiance, Mo.
Conference: Is Government the Problem?
Liberty & Ethics Center Spring Conference, March 21-23, 2014