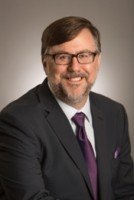 Howard Wall, Ph.D., directs the Hammond Institute for Free Enterprise and is a Senior Research Fellow in the Center for Economics and the Environment. He is also a Professor of Economics in Plaster School of Business & Entrepreneurship at Lindenwood University.
Prior to joining Lindenwood in 2011, Wall was a vice president and regional economics adviser at the Federal Reserve Bank of St. Louis. In addition, he spent ten years as an academic in the economics departments at West Virginia University and Birkbeck College, University of London; had two stints as a visiting scholar at the Bank of Japan; and was a Senior Fulbright Scholar at the Instituto de Economía de Montevideo, Uruguay. Wall has published more than 50 papers in scholarly journals such as the Review of Economics and Statistics, International Economic Review, Economic Journal, Journal of Urban Economics, Regional Science and Urban Economics, Journal of Money, Credit and Banking, and the Journal of Regional Science.
Dr. Wall received his Bachelor of Arts in Economics from the State University of New York at Binghamton (1984) and his Master of Arts and Ph.D. from the State University of New York at Buffalo (1986, 1989).