At one time, the professors were you: sitting in class wondering, "What am I going to do with my life?" They have spent a lifetime delving into their interests -- researching, writing, and publishing on all sorts of fascinating topics and always looking for the next adventure or fascination.
Faculty Reads Series is a opportunity to get to know your professor. Why did they choose to study their area of expertise? What drove them to it? What are they working on now and why is it exciting? How did they make the leap from student to expert? This is a chance to learn from your professor's unique experiences, and possibly discover your own path.
What to Expect
Faculty Reads Series is an hour long event, in which 1-4 professors share the books that influenced their life story and career path.

This is an informal, yet inspiring hour in which we learn about professors' passion for what they do. Professors will talk about how they discovered their academic interests, how they came to pursue their study, why it excites them.

Professors may talk about their most recent research and publications. They may discuss their process, and how that may impact you. They may also read from or discuss a few books -- books that inspired them, were instrumental in their research, or books they simply love.

Their book selections may be on display at the front desk, and/or found virtually on this page.
The Take Away
Lindenwood Library's goal is two-fold in hosting Faculty Reads Series.

We are in awe of the amazing work and unique passion that each professor brings to the Lindenwood community. We wish to celebrate that dedication.

We also, and most importantly, hope that you, the student, leave the event with a greater appreciation for your professor and inspiration as you live out your own story. Faculty may end their presentation with some advice for you. We hope you learn from the faculty's experiences, ponder what makes you excited, and find the inspiration to passionately pursue it.
Interested in speaking? Let us know using our Interested Faculty form.
Want to suggest a faculty member? Use our Suggest Faculty form.
Colleen Biri and Chris Scribner - Tuesday, February 12 2:30 p.m. LARC Theater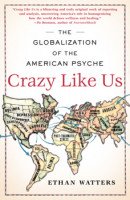 Crazy Like Us: The Globalization of the American Psyche by Ethan Watters -- "It is well known that American culture is a dominant force at home and abroad; our exportation of everything from movies to junk food is a well-documented phenomenon. But is it possible America's most troubling impact on the globalizing world has yet to be accounted for?
In Crazy Like Us, Ethan Watters reveals that the most devastating consequence of the spread of American culture has not been our golden arches or our bomb craters but our bulldozing of the human psyche itself: We are in the process of homogenizing the way the world goes mad.".
"America has been the world leader in generating new mental health treatments and modern theories of the human psyche. We export our psychopharmaceuticals packaged with the certainty that our biomedical knowledge will relieve the suffering and stigma of mental illness. We categorize disorders, thereby defining mental illness and health, and then parade these seemingly scientific certainties in front of the world.
The blowback from these efforts is just now coming to light: It turns out that we have not only been changing the way the world talks about and treats mental illness - we have been changing the mental illnesses themselves.". – Book Jacket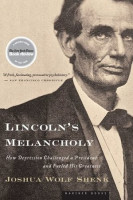 Lincoln's Melancholy: How Depression Challenged a President and Fueled His Greatness by Joshua Wolf Shenk -- Drawing on seven years of his own research and the work of other esteemed Lincoln scholars, Shenk reveals how the sixteenth president harnessed depression to fuel his astonishing success. Lincoln found the solace and tactics he needed to deal with the nation's worst crisis in the "coping strategies" he had developed over a lifetime of persevering through depressive episodes and personal tragedies. With empathy and authority gained from his own experience with depression, Shenk crafts a revelatory account of Lincoln and his legacy. Based on careful research, this book unveils a wholly new perspective on how our greatest president brought America through its greatest turmoil. By consciously shifting his goal away from personal contentment (which he realized he could not attain) and toward universal justice, Lincoln gained the strength and insight that he, and America, required to transcend profound darkness.--From publisher description.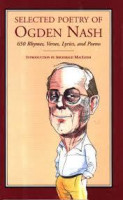 Selected Poetry of Ogden Nash by Odgen Nash -- Gathers poems on a variety of subjects including love, marriage, parenthood, modern life, animals, aging, travel, work, and food. – Goodreads.com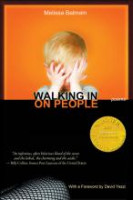 Walking in on People by Melissa Balmain –- In Melissa Balmain's "Walking in on People, " the serious is lightened with a generous serving of wit and humor, and the lighthearted is enriched with abundant wisdom. She shows us how poetry can be fun yet grounded in everyday challenges and triumphs, with subjects ranging from the current and hip ("Facebook" posts, online dating, layoffs, retail therapy, cell-phone apps, trans fat), to the traditional and time-tested (marriage, child-rearing, love, death). Through it all, her craft is masterful, with a formal dexterity deployed with precision in a showcase of forms such as the villanelle, ballad, triolet, nonce, and the sonnet. It is little wonder then that "Walking in on People" is the winner of the 2013 Able Muse Book Award, as selected by the final judge, X.J. Kennedy. This is a collection that will not only entertain thoroughly, but also enlighten and reward the reader.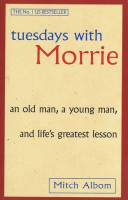 Tuesdays with Morrie by Mitch Albom -- Maybe it was a grandparent, or a teacher, or a colleague. Someone older, patient and wise, who understood you when you were young and searching, helped you see the world as a more profound place, gave you sound advice to help you make your way through it." "For Mitch Albom, that person was Morrie Schwartz, his college professor from nearly twenty years ago." "Maybe, like Mitch, you lost track of this mentor as you made your way, and the insights faded, and the world seemed colder. Wouldn't you like to see that person again, ask the bigger questions that still haunt you, receive wisdom for your busy life today the way you once did when you were younger?" "Mitch Albom had that second chance. He rediscovered Morrie in the last months of the older man's life. Knowing he was dying, Morrie visited with Mitch in his study every Tuesday, just as they used to back in college. Their rekindled relationship turned into one final "class": lessons in how to live." "Tuesdays with Morrie is a magical chronicle of their time together, through which Mitch shares Morrie's lasting gift with the world."--BOOK JACKET.
The Happiness Project by Gretchen Rubin -- In this lively and compelling account, Rubin chronicles her adventures during the twelve months she spent test-driving the wisdom of the ages, current scientific research, and lessons from popular culture about how to be happier. Among other things, she found that novelty and challenge are powerful sources of happiness; that money can help buy happiness, when spent wisely; that outer order contributes to inner calm; and that the very smallest of changes can make the biggest difference. – Goodreads.com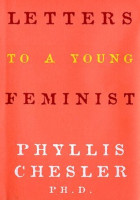 Letters to a Young Feminist by Phyllis Chesler -- In a series of letters, author and feminist Phylis Chesler takes stock of her generation's legacy to the present and future. In relating her own experiences she challenges the readers to protect what has been won, and to confront the tasks that remain. - Syndetics
Nichole Torbitzky and Gillian Parrish - November 7 2 p.m. LARC Theater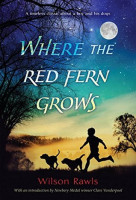 Where the Red Fern Grows—Wilson Rawls - A loving threesome, they ranged the dark hills and river bottoms of Cherokee country. Old Dan had the brawn. Little Ann had the brains, and Billy had the will to make them into the finest hunting team in the valley. Glory and victory were coming to them, but sadness waited too. Where the Red Fern Grows is an exciting tale of love and adventure you'll never forget. – Goodreads.com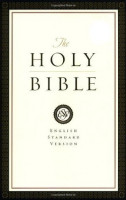 The Bible—Multiple Authors - The ESV Study Bible was designed to help you understand the Bible in a deeper way. Created by a diverse team of 95 leading Bible scholars and teachers--from 9 countries, nearly 20 denominations, and 50 seminaries, colleges, and universities--the ESV Study Bible features a wide array of study tools, making it a valuable resource for serious readers, students, and teachers of God's Word. --- Goodreads.com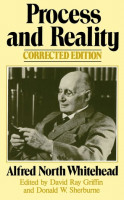 Process and Reality-A.N. Whitehead - One of the major philosophical texts of the 20th century, Process and Reality is based on Alfred North Whitehead's influential lectures that he delivered at the University of Edinburgh in the 1920s on process philosophy. --- Goodreads.com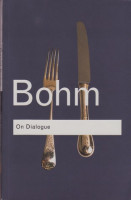 On Dialogue -- David Bohm - Never before has there been a greater need for deeper listening and more open communication to cope with the complex problems facing our organizations, businesses and societies. Renowned scientist David Bohm believed there was a better way for humanity to discover meaning and to achieve harmony. He identified creative dialogue, a sharing of assumptions and understanding, as a means by which the individual, and society as a whole, can learn more about themselves and others, and achieve a renewed sense of purpose.  --- Godoreads.com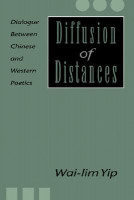 Diffusion of Distances: Dialogues Between Chinese and Western Poetics -- Wai-lim Yip - In this collection of passionately argued essays, the internationally acclaimed poet and critic Wai-lim Yip calls Western scholarship to account for its treacherous representation of non-Western literature. Yip moves from Plato to Hans-Georg Gadamer, from Chuang-tzu to Mao Tse-tung, from John Donne to Robert Creeley, as he attempts to create a double consciousness that includes the state of mind of the original author and the expressive potentials of the target language. He aims, first, to expose the types of distortions that have occurred in the process of translation from one language to another and, second, to propose guidelines that will prevent this kind of linguistic violence in the future.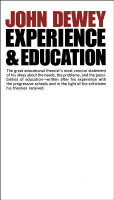 Experience and Education -- John Dewey - [Dewey's] philosophy, here expressed in its most essential, most readable form, predicates an American educational system that respects all sources of experience, one that offers a true learning situation that is both historical and social, both orderly and dynamic.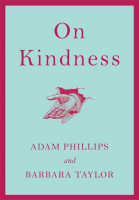 On Kindness -- Adam Phillips and Barbara Taylor - Kindness is the foundation of the world's great religions and most-enduring philosophies. Why, then, does being kind feel so dangerous? If we crave kindness with such intensity, why is it a pleasure we often deny ourselves? And why—despite our longing—are we often suspicious when we are on the receiving end of it? In this brilliant book, the eminent psychoanalyst Adam Phillips and the historian Barbara Taylor examine the pleasures and perils of kindness. Modern people have been taught to perceive ourselves as fundamentally antagonistic to one another, our motives self-seeking. Drawing on intellectual history, literature, psychoanalysis, and contemporary social theory, this book explains how and why we have chosen loneliness over connection. On Kindness argues that a life lived in instinctive, sympathetic identification with others is the one we should allow ourselves to live. …this brief and essential book will return to its readers what Marcus Aurelius declared was mankind's "greatest delight": the intense satisfactions of generosity and compassion.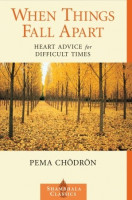 When Things Fall Apart: Heart Advice for Difficult Times -- Pema Chodron - How can we live our lives when everything seems to fall apart—when we are continually overcome by fear, anxiety, and pain? The answer, Pema Chödrön suggests, might be just the opposite of what you expect. Here, in her most beloved and acclaimed work, Pema shows that moving toward painful situations and becoming intimate with them can open up our hearts in ways we never before imagined.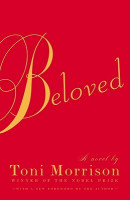 Beloved -- Toni Morrison - Staring unflinchingly into the abyss of slavery, this spellbinding novel transforms history into a story as powerful as Exodus and as intimate as a lullaby….Filled with bitter poetry and suspense as taut as a rope, Beloved is a towering achievement by Nobel Prize laureate Toni Morrison.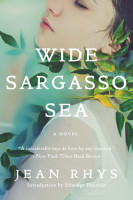 Wide Sargasso Sea -- Jean Rhys - Wide Sargasso Sea, a masterpiece of modern fiction, was Jean Rhys's return to the literary center stage….With Wide Sargasso Sea, her last and best-selling novel, she ingeniously brings into light one of fiction's most fascinating characters: the madwoman in the attic from Charlotte Brontë's Jane Eyre….A new introduction by the award-winning Edwidge Danticat, author most recently of Claire of the Sea Light, expresses the enduring importance of this work. Drawing on her own Caribbean background, she illuminates the setting's impact on Rhys and her astonishing work.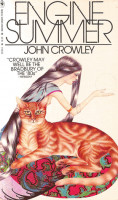 Engine Summer -- John Crowley - There are some books that are bigger on the inside than on the outside. They may be small, but are so densely layered that they feel like they're opening onto infinite space, and when you finish reading you're dazed, like you've woken up from a vivid dream to find your waking life transformed. Engine Summer is such a book, a deceptively slim novella set in a far-future world, which is at once a picaresque tale of love and adventure, and a dreamily gorgeous story about the nature of time, identity, consciousness, and the stories that make us really live. 
Sue Edele and Jazmine Lampley - September 18, 2018 1:00 P.M.
Dr. Brown-Hudson and Dr. Pomianek - April 2018
Inspired by the true story of a woman who changed the way we understand our world.
In 1933 three young, gifted anthropologists are thrown together in the jungle of New Guinea. They are Nell Stone, fascinating, magnetic and famous for her controversial work studying South Pacific tribes, her intelligent and aggressive husband Fen, and Andrew Bankson, who stumbles into the lives of this strange couple and becomes totally enthralled. Within months the trio are producing their best ever work, but soon a firestorm of fierce love and jealousy begins to burn out of control, threatening their bonds, their careers, and, ultimately, their lives. – Goodreads.com
TEACHER SEEKS PUPIL.
Must have an earnest desire to save the world. Apply in person.
It was just a three-line ad in the personals section, but it launched the adventure of a lifetime...
So begins Ishmael, an utterly unique and captivating novel that has earned a large and passionate following among readers and critics alike—one of the most beloved and bestselling novels of spiritual adventure ever published. – Goodreads.com
With Hope in the Dark, Rebecca Solnit makes a radical case for hope as a commitment to act in a world whose future remains uncertain and unknowable. Drawing on her decades of activism and a wide reading of environmental, cultural, and political history, Solnit argues that radicals have a long, neglected history of transformative victories, that the positive consequences of our acts are not always immediately seen, directly knowable, or even measurable, and that pessimism and despair rest on an unwarranted confidence about what is going to happen next.
Originally published in 2004, now with a new foreword and afterword, Solnit's influential book shines a light into the darkness of our time in an unforgettable new edition. --- Goodreads.com
In this follow-up to Men Explain Things to Me, Rebecca Solnit offers commentary on women who refuse to be silenced, misogynistic violence, the fragile masculinity of the literary canon, the gender binary, the recent history of rape jokes, and much more. – Goodreads.com
Dr. Giuseffi and Dr. Leavitt - April 2017
Publication date: (written around 380 BCE), this edition was published in 2003, library owns 1974 edition
Presented in the form of a dialogue between Socrates and three different interlocutors, this classic text is an enquiry into the notion of a perfect community and the ideal individual within it. During the conversation, other questions are raised: what is goodness?; what is reality?; and what is knowledge? The Republic also addresses the purpose of education and the role of both women and men as guardians of the people. With remarkable lucidity and deft use of allegory, Plato arrives at a depiction of a state bound by harmony and ruled by philosopher kings. -- Goodreads.com
Publication Date: Written in 390 BCE, Library owns copy from 1965, picture features copy from 1980
About G.M.A Grube's translations of Plato: "Unmistakably superior: more lucid, more accurate, more readable. Above all, they're lucidly adorned, unpretentious, and in translating Plato that counts a good deal. The prose is, as English prose, persuasive, cogent, and as eloquent as it can be without departing from the text. --William Arrowsmith
Whiplash: How To Survive Our Faster Future by Joi Ito & Jeff Howe
ISBN:9781455544592
Publication Date: 2016
Today, not only is everything digital getting faster, cheaper, and smaller at an exponential rate, we also have the Internet. When these two revolutions--one in technology and the other in communications--joined, an explosive force was unleashed that changed the very nature of innovation. And with any change, we have seen many strategic blunders and extraordinary learning curves along the way.

At last, in Whiplash, Joi Ito and Jeff Howe have distilled nine organizing principles for navigating and surviving this tumultuous period. These principles give us a roadmap on how to thrive no matter what industry we're in.

With Whiplash, two great thinkers tell us how to adapt and succeed in today's unpredictable marketplace.
What To Do When It's Your Turn (And It's Always Your Turn) by Seth Godin
ISBN: 9781936719310
Publication Date= 2014
Seth Godin has pushed the boundaries again by creating a new book format that reads more like a magazine. The book is in full color and is a collection of short stories and essays that help the reader know "what to do when it's your turn" in life. -- Goodreads.com
Dr. Morris and Dr. Hafer - February 2017
Man's Search for Meaning by Viktor E. Frankl
ISBN: 9780807014295
Publication Date: 1946
Psychiatrist Viktor Frankl's memoir has riveted generations of readers with its descriptions of life in Nazi death camps and its lessons for spiritual survival. Between 1942 and 1945 Frankl labored in four different camps, including Auschwitz, while his parents, brother, and pregnant wife perished. Based on his own experience and the experiences of others he treated later in his practice, Frankl argues that we cannot avoid suffering but we can choose how to cope with it, find meaning in it, and move forward with renewed purpose. Frankl's theory-known as logotherapy, from the Greek word logos ("meaning")-holds that our primary drive in life is not pleasure, as Freud maintained, but the discovery and pursuit of what we personally find meaningful.

At the time of Frankl's death in 1997, Man's Search for Meaning had sold more than 10 million copies in twenty-four languages. A 1991 reader survey for the Library of Congress that asked readers to name a "book that made a difference in your life" found Man's Search for Meaning among the ten most influential books in America.

The Discoverers: A History of Man's Search to Know His World and Himself (Knowledge Trilogy #1) by Daniel J. Boorstin
ISBN:9780394726250
Publication Date: 1983
An original history of man's greatest adventure: his search to discover the world around him.
ISBN: 9781501111105
Publication Date: 2016
In this must-read book for anyone striving to succeed, pioneering psychologist Angela Duckworth shows parents, educators, students, and business people ;both seasoned and new that the secret to outstanding achievement is not talent but a focused persistence called grit.

Why do some people succeed and others fail? Sharing new insights from her landmark research on grit, Angela Duckworth explains why talent is hardly a guarantor of success. Rather, other factors can be even more crucial such as identifying our passions and following through on our commitments.

Drawing on her own powerful story as the daughter of a scientist who frequently bemoaned her lack of smarts, Duckworth describes her winding path through teaching, business consulting, and neuroscience, which led to the hypothesis that what really drives success is not genius, but a special blend of passion and long-term perseverance. As a professor at the University of Pennsylvania, Duckworth created her own character lab and set out to test her theory.

Here, she takes readers into the field to visit teachers working in some of the toughest schools, cadets struggling through their first days at West Point, and young finalists in the National Spelling Bee. She also mines fascinating insights from history and shows what can be gleaned from modern experiments in peak performance. Finally, she shares what she's learned from interviewing dozens of high achievers; from JP Morgan CEO Jamie Dimon to the cartoon editor of The New Yorker to Seattle Seahawks Coach Pete Carroll.

Winningly personal, insightful, and even life-changing, Grit is a book about what goes through your head when you fall down, and how that not talent or luck makes all the difference.

Hive Mind: How Your Nation's IQ Matters So Much More Than Your Own by Garett Jones
ISBN: 9780804785969
Publication Date: 2015
Over the last few decades, economists and psychologists have quietly documented the many ways in which a person's IQ matters. But, research suggests that a nation's IQ matters so much more.

As Garett Jones argues in Hive Mind, modest differences in national IQ can explain most cross-country inequalities. Whereas IQ scores do a moderately good job of predicting individual wages, information processing power, and brain size, a country's average score is a much stronger bellwether of its overall prosperity.
Intelligence: A Unifying Construct for Social Sciences by Richard Lynn, Tatu Vanhanen
ISBN:9780956881182
Publication Date:2012
This book challenges social scientists to reconsider the theoretical foundations of the study of social phenomena. Until now social scientists have assumed that varying environmental factors explain social phenomena and that there cannot be any common explanatory factor behind various social phenomena. However, the empirical evidence presented in this book and covering nearly 200 countries indicates that many kinds of human conditions depend significantly on differences in average intelligence of nations (national IQs).

Differences in intelligence help to explain all kinds of phenotypic social phenomena as well as the persistence of social inequalities in the world. Environmental factors affecting such phenomena vary from case to case, but intelligence reflecting the evolved human diversity remains the same explanatory factor across all phenotypic social phenomena. This means that it provides a unifying theoretical construct for the social sciences. Unfortunately social scientists have not yet realized that most problems explored in social sciences are phenotypic phenomena depending on both genotypic and environmental factors and that intelligence is a powerful genotypic common explanatory factor.

The arguments and hypotheses presented in this book are tested and supported by extensive empirical evidence. Ultimately empirical evidence will decide the destiny of conflicting theoretical arguments.
Dr. Stoelting and Dr. Afful - September 2016
Dr. Plate and Dr. Steineger Selections - April 2016
Dr. Brown and Prof. Carper - February 2016
Executive Offices - April 2015
Life after Life

by

ISBN: 9780316176484

Publication Date: 2013-04-02

What if you could live again and again, until you got it right? On a cold and snowy night in 1910, Ursula Todd is born to an English banker and his wife. She dies before she can draw her first breath. On that same cold and snowy night, Ursula Todd is born, lets out a lusty wail, and embarks upon a life that will be, to say the least, unusual. For as she grows, she also dies, repeatedly, in a variety of ways, while the young century marches on towards its second cataclysmic world war. Does Ursula's apparently infinite number of lives give her the power to save the world from its inevitable destiny? And if she can -- will she? Darkly comic, startlingly poignant, and utterly original -- this is Kate Atkinson at her absolute best.

A Tale for the Time Being

by

ISBN: 9780670026630

Publication Date: 2013-03-12

A brilliant, unforgettable novel from bestselling author Ruth Ozeki—shortlisted for the Booker Prize and the National Book Critics Circle Award "A time being is someone who lives in time, and that means you, and me, and every one of us who is, or was, or ever will be." In Tokyo, sixteen-year-old Nao has decided there's only one escape from her aching loneliness and her classmates' bullying. But before she ends it all, Nao first plans to document the life of her great grandmother, a Buddhist nun who's lived more than a century. A diary is Nao's only solace—and will touch lives in ways she can scarcely imagine. Across the Pacific, we meet Ruth, a novelist living on a remote island who discovers a collection of artifacts washed ashore in a Hello Kitty lunchbox—possibly debris from the devastating 2011 tsunami. As the mystery of its contents unfolds, Ruth is pulled into the past, into Nao's drama and her unknown fate, and forward into her own future. Full of Ozeki's signature humor and deeply engaged with the relationship between writer and reader, past and present, fact and fiction, quantum physics, history, and myth, A Tale for the Time Being is a brilliantly inventive, beguiling story of our shared humanity and the search for home.  

The Signature of All Things

by

ISBN: 9780670024858

Publication Date: 2013-10-01

A glorious, sweeping novel of desire, ambition, and the thirst for knowledge, from the # 1 New York Times bestselling author of Eat, Pray, Love and Committed In The Signature of All Things, Elizabeth Gilbert returns to fiction, inserting her inimitable voice into an enthralling story of love, adventure and discovery. Spanning much of the eighteenth and nineteenth centuries, the novel follows the fortunes of the extraordinary Whittaker family as led by the enterprising Henry Whittaker—a poor-born Englishman who makes a great fortune in the South American quinine trade, eventually becoming the richest man in Philadelphia. Born in 1800, Henry's brilliant daughter, Alma (who inherits both her father's money and his mind), ultimately becomes a botanist of considerable gifts herself. As Alma's research takes her deeper into the mysteries of evolution, she falls in love with a man named Ambrose Pike who makes incomparable paintings of orchids and who draws her in the exact opposite direction—into the realm of the spiritual, the divine, and the magical. Alma is a clear-minded scientist; Ambrose a utopian artist—but what unites this unlikely couple is a desperate need to understand the workings of this world and the mechanisms behind all life. Exquisitely researched and told at a galloping pace, The Signature of All Things soars across the globe—from London to Peru to Philadelphia to Tahiti to Amsterdam, and beyond. Along the way, the story is peopled with unforgettable characters: missionaries, abolitionists, adventurers, astronomers, sea captains, geniuses, and the quite mad. But most memorable of all, it is the story of Alma Whittaker, who—born in the Age of Enlightenment, but living well into the Industrial Revolution—bears witness to that extraordinary moment in human history when all the old assumptions about science, religion, commerce, and class were exploding into dangerous new ideas. Written in the bold, questing spirit of that singular time, Gilbert's wise, deep, and spellbinding tale is certain to capture the hearts and minds of readers.  
Dr. Golik - February 2015
Wavelets and Subband Coding

by

ISBN: 0130970808

Publication Date: 1995-04-21

A central goal of signal processing is to describe real life signals, be it for computation, compression, or understanding. This book presents a unified view of wavelets and subband coding with a signal processing perspective. Covers the discrete-time case, or filter banks; development of wavelets; continuous wavelet and local Fourier transforms; efficient algorithms for filter banks and wavelet computations; and signal compression. For electrical engineers and computer scientists.

The History of the Decline and Fall of the Roman Empire

by

ISBN: 9781420945300

Publication Date: 2012-01-01

Norman Kemp Smith's The Philosophy of David Hume continues to be unsurpassed in its comprehensive coverage of the ideas and issues of Hume's Treatise. Now, after years of waiting, this currently out-of-print and highly sought-after classic is being re-issued. This ground-breaking book has long been regarded as a classic study by scholars in the field, yet a new introduction by Don Garrett places the book in its contemporary context, showing Humes's continuing importance in the field.
Dr. Douchant and Dr. Wall - November 2014
The Empiricists

by

ISBN: 9780847689132

Publication Date: 1998-12-23

A collection of essays on the work of John Locke, George Berkeley and David Hume, designed to provide a deeper understanding of major issues raised in the empiricist tradition. It includes The Rationalist Descartes, Spinoza, and Leibnitz, edited by Derk Pereboom.

Philosophy of David Hume

by

ISBN: 9781403915078

Publication Date: 2005-04-02

Norman Kemp Smith's The Philosophy of David Hume continues to be unsurpassed in its comprehensive coverage of the ideas and issues of Hume's Treatise. Now, after years of waiting, this currently out-of-print and highly sought-after classic is being re-issued. This ground-breaking book has long been regarded as a classic study by scholars in the field, yet a new introduction by Don Garrett places the book in its contemporary context, showing Humes's continuing importance in the field.
Dr. Brown-Hudson, Prof. Heyn, and Prof. Edele - October 2014
Dr. Thies - September 2014
In Cold Blood

by

ISBN: 9780812994384

Publication Date: 2013-02-19

Selected by the Modern Library as one of the 100 best nonfiction books of all time From the Modern Library's new set of beautifully repackaged hardcover classics by Truman Capote--also available are Breakfast at Tiffany's and Other Voices, Other Rooms (in one volume), Portraits and Observations, and The Complete Stories Truman Capote's masterpiece, In Cold Blood, created a sensation when it was first published, serially, in The New Yorker in 1965. The intensively researched, atmospheric narrative of the lives of the Clutter family of Holcomb, Kansas, and of the two men, Richard Eugene Hickock and Perry Edward Smith, who brutally killed them on the night of November 15, 1959, is the seminal work of the "new journalism." Perry Smith is one of the great dark characters of American literature, full of contradictory emotions. "I thought he was a very nice gentleman," he says of Herb Clutter. "Soft-spoken. I thought so right up to the moment I cut his throat." Told in chapters that alternate between the Clutter household and the approach of Smith and Hickock in their black Chevrolet, then between the investigation of the case and the killers' flight, Capote's account is so detailed that the reader comes to feel almost like a participant in the events.

All God's Children

by

ISBN: 9780307280336

Publication Date: 2008-01-08

A timely reissue of Fox Butterfield's masterpiece, All God's Children, a searing examination of the caustic cumulative effect of racism and violence over 5 generations of black Americans. Willie Bosket is a brilliant, violent man who began his criminal career at age five; his slaying of two subway riders at fifteen led to the passage of the first law in the nation allowing teenagers to be tried as adults. Butterfield traces the Bosket family back to their days as South Carolina slaves and documents how Willie is the culmination of generations of neglect, cruelty, discrimination and brutality directed at black Americans. From the terrifying scourge of the Ku Klux Klan during Reconstruction to the brutal streets of 1970s New York, this is an unforgettable examination of the painful roots of violence and racism in America.

Miracle at Sing Sing

by

ISBN: 9780312308919

Publication Date: 2004-06-15

In 1919, Lewis E. Lawes moved his wife and young daughters into the warden's mansion at Sing Sing prison. They shared a yard with 1, 096 of the toughest inmates in the world-murderers, rapists, and thieves who Lawes alone believed capable of redemption. Adamantly opposed to the death penalty, Lawes presided over 300 executions. His progressive ideas shocked many, but he taught the nation that a prison was a community. He allowed a kidnapper to care for his children and a cutthroat to shave him every morning. He organized legendary football games for his "boys," and befriended Hollywood greats such as Charlie Chaplin and Humphrey Bogart. This is "A story almost too good to be true, but too true to miss." -Mario Cuomo
Previously Recommended 2013
Public Art

by

ISBN: 9781405155588

Publication Date: 2008-04-28

This book takes a bold look at public art and its populist appeal, offering a more inclusive guide to America's creative tastes and shared culture. It examines the history of American public art - from FDR's New Deal to Christo's The Gates - and challenges preconceived notions of public art, expanding its definition to include a broader scope of works and concepts. Expands the definition of public art to include sites such as Boston's Big Dig, Las Vegas' Treasure Island, and Disney World Offers a refreshing alternative to the traditional rhetoric and criticism surrounding public art Includes insightful analysis of the museum and its role in relation to public art

The Fashion Reader

by

ISBN: 9781845204853

Publication Date: 2007-03-15

The Fashion Reader is designed for students, scholars, and anyone interested in contemporary fashion. The book brings together the key writings on the subject, covering the history, culture, and business of fashion. The extracts are drawn from a wide range of sources--books, professional and academic journals, magazines, interviews and exhibition catalogues. Each section is specially introduced and concludes with guides to further reading.

Alexander McQueen

by

ISBN: 9780062131997

Publication Date: 2012-10-30

An intimate and revealing look at the personal and professional life of the fashion world's most visionary designer. This incredible volume strips away the layers of legend surrounding Alexander McQueen, revealing the sartorial genius and the true history of the man who reinvented modern fashion. Uncovering new details about Lee Alexander McQueen's humble childhood in East London, author Judith Watt traces the young designer's ascent--from his graduate collection at Central Saint Martins School of Art and Design to his over-the-top runway shows to the designs he created just days before his death at age forty. Providing new insights into the dark passion and inspiration that guided each fever-pitched runway show, this fully illustrated portrait delivers a truly comprehensive, in-depth look at the most provocative designer of a generation. Illustrated throughout with McQueen's personal drawings and ephemera as well as a mixture of exquisite catwalk and editorial fashion images, Alexander McQueen: The Life and the Legacy is every bit as stunning as the designer himself.

The Portrayal of Love - Botticelli's Primavera and Humanist Culture at the Time of Lorenzo the Magnificent

by

ISBN: 9780691015736

Publication Date: 1997-02-03

Widely acknowledged as a prime manifestation of Florentine humanist culture under Lorenzo de'Medici, Botticelli's Primavera cannot be fully interpreted without considering the poetics that expressed the Laurentian cultural program and, in turn, the Renaissance itself. In this analysis Charles Dempsey examines the poetry written by Lorenzo and his literary clients in order to give definition to the cultural context in which the Primavera was created. A celebration of Love, the painting is shown to incorporate both public and private imaginative realms while embracing the ideal and the actual experiences of the present. The Primavera, depicting Venus as the spirit of Love and springtime, is simultaneously old-fashioned and modern, rooted in International-Style vernacular conventions and evincing a nascent classical vocabulary. After describing the profoundly humanist classical foundation of the invention of the Primavera, Dempsey identifies its genre with rustic song, then relates the painting to the conventions of vernacular love poetry. A close reading of the painting in relation to works by Lorenzo, Politian, Pulci, and other poets working to elevate vernacular expression by infusing native Tuscan with Latin forms suggests how the idea of Love portrayed by Botticelli in the form of Venus incorporates not only the ancient springtime renovatio mundi but also the actual cultural renovation--the Renaissance--imagined and sponsored by Lorenzo the Magnificent.

Art History's History

by

ISBN: 9780130851338

Publication Date: 2000-07-17

Written in jargon-free, reader-friendly language, this is one of the first volumes to make art historical theory accessible to those at the introductory level. A review of contemporary theory of art history provides readers with lucid prose and concrete examples. Discussion of eighteenth- and nineteenth- century theories that are important to art history offers readers a review of historically important issues in philosophy. Illustrations of well-known works of art show readers how theory has application to images. Art historians and educators.

Studies in Iconology

by

ISBN: 0064300250

Publication Date: 1972-03-15

In Studies in Iconology, the themes and concepts of Renaissance art are analysed and related to both classical and medieval tendencies.

Middlemarch

by

ISBN: 0460875612

Publication Date: 1997-02-15

Dorethea aspires to a high spiritual life, but is stifled by her environment.

Jane Eyre

by

ISBN: 0142437204

Publication Date: 2003-02-04

Orphaned into the household of her Aunt Reed at Gateshead and subject to the cruel regime at Lowood charity school, Jane Eyre nonetheless emerges unbroken in spirit and integrity. She takes up the post of governess at Thornfield Hall, falls in love with Mr. Rochester, and discovers the impediment to their lawful marriage in a story that transcends melodrama to portray a woman's passionate search for a richer life than that traditionally allowed women in Victorian society. Edited with an Introduction and Notes by Michael Mason

Child of God

by

ISBN: 9780679728740

Publication Date: 1993-06-29

In this taut, chilling novel, Lester Ballard--a violent, dispossessed man falsely accused of rape--haunts the hill country of East Tennessee when he is released from jail.  While telling his story, Cormac McCarthy depicts the most sordid aspects of life with dignity, humor, and characteristic lyrical brilliance.

My Emily Dickinson

by

ISBN: 9780811216838

Publication Date: 2007-11-15

With exacting rigor and wit, Howe pulls Dickinson free of all the sterile and stuffy belle-of-Amherst cotton wool and shows the poet in touch with elemental forces of nature, and as a prophet in all her radical zealotry and poetic glory. Her Emily Dickinson is a unique American genius, a demon lover of poetry--no neurasthenic spider artist. Howe draws into her discussion Browning, Wuthering Heights, the Civil War, "Master," the great Puritan preachers, captivity narratives, Shakespeare, and phantom lovers. As she chases away narrow and reductive feminist readings of the poet, Howe finds instead a radically powerful and true feminism at work in Dickinson, focusing the whole on that heart-stopping poem "My Life had stood--a Loaded Gun." A remarkable and passionate poet-on-poet engagement, My Emily Dickinson frees a great poet from the fetters of being read as a special female neurotic, and sets her against a fiery open sky where "Perception of an object means loosing and losing it...only Mutability certain." My Emily Dickinson won The Before Columbus Foundation Book Award.

Paradise Lost

by

ISBN: 9781438592503

Publication Date: 2011-04-01

John Milton was a 17th century poet famed for his two epic poems Paradise Lost and Paradise Regained. Milton came under scrutiny for his radical political views and his heretical religious beliefs. T S Eliot in particular wrote against Milton

The Golden Compass

by

ISBN: 9780440238133

Publication Date: 2003-09-09

Lyra Belaqua is content to run wild among the scholars of Jordan College, with her daemon familiar Pantalaimon always by her side. But the arrival of her fearsome uncle, Lord Asriel, draws her to the heart of a terrible struggle#151;a struggle born of Gobblers and stolen children, witch clans and armored bears. And as she hurtles toward danger in the cold, far North, young Lyra never suspects the shocking truth: She alone is destined to win, or to lose, this more-than-mortal battle.

The Oresteia

by

ISBN: 9780140443332

Publication Date: 1984-02-07

The only trilogy in Greek drama that survives from antiquity, Aeschylus' The Oresteia is translated by Robert Fagles with an introduction, notes and glossary written in collaboration with W.B. Stanford in Penguin Classics. In the Oresteia Aeschylus addressed the bloody chain of murder and revenge within the royal family of Argos. As they move from darkness to light, from rage to self-governance, from primitive ritual to civilized institution, their spirit of struggle and regeneration becomes an everlasting song of celebration. In Agamemnon, a king's decision to sacrifice his daughter and turn the tide of war inflicts lasting damage on his family, culminating in a terrible act of retribution; The Libation Bearers deals with the aftermath of Clytemnestra's regicide, as her son Orestes sets out to avenge his father's death; and in The Eumenides, Orestes is tormented by supernatural powers that can never be appeased. Forming an elegant and subtle discourse on the emergence of Athenian democracy out of a period of chaos and destruction, The Oresteia is a compelling tragedy of the tensions between our obligations to our families and the laws that bind us together as a society. Aeschylus (525-456 BC) was born near Athens. He wrote more than seventy plays, of which seven have survived, all translated for Penguin Classics: The Supplicants, The Persians, Seven Against Thebes, Prometheus Bound, Agamemnon, The Libation Bearers and The Eumenides. If you enjoyed The Oresteia, you might like Euripides' Medea and Other Plays, also available in Penguin Classics. 'Conveys more vividly and powerfully than any of the ten competitors I have consulted the eternal power of this masterpiece ... a triumph -- Bernard Levin 'How satisfying to read at last a modern translation which is rooted in Greek feeling and Greek thought ... both the stature and the profound instinctive genius of Aeschylus are recognized -- Mary Renault, author of The King Must Die

The Shallows

by

ISBN: 9780393072228

Publication Date: 2010-06-07

"Is Google making us stupid?" When Nicholas Carr posed that question, in a celebrated Atlantic Monthly cover story, he tapped into a well of anxiety about how the Internet is changing us. He also crystallized one of the most important debates of our time: As we enjoy the Net's bounties, are we sacrificing our ability to read and think deeply? Now, Carr expands his argument into the most compelling exploration of the Internet's intellectual and cultural consequences yet published. As he describes how human thought has been shaped through the centuries by "tools of the mind"--from the alphabet to maps, to the printing press, the clock, and the computer--Carr interweaves a fascinating account of recent discoveries in neuroscience by such pioneers as Michael Merzenich and Eric Kandel. Our brains, the historical and scientific evidence reveals, change in response to our experiences. The technologies we use to find, store, and share information can literally reroute our neural pathways. Building on the insights of thinkers from Plato to McLuhan, Carr makes a convincing case that every information technology carries an intellectual ethic--a set of assumptions about the nature of knowledge and intelligence. He explains how the printed book served to focus our attention, promoting deep and creative thought. In stark contrast, the Internet encourages the rapid, distracted sampling of small bits of information from many sources. Its ethic is that of the industrialist, an ethic of speed and efficiency, of optimized production and consumption--and now the Net is remaking us in its own image. We are becoming ever more adept at scanning and skimming, but what we are losing is our capacity for concentration, contemplation, and reflection. Part intellectual history, part popular science, and part cultural criticism, The Shallows sparkles with memorable vignettes--Friedrich Nietzsche wrestling with a typewriter, Sigmund Freud dissecting the brains of sea creatures, Nathaniel Hawthorne contemplating the thunderous approach of a steam locomotive--even as it plumbs profound questions about the state of our modern psyche. This is a book that will forever alter the way we think about media and our minds.

How the Page Matters

by

ISBN: 9780802097606

Publication Date: 2011-09-17

From handwritten texts to online books, the page has been a standard interface for transmitting knowledge for over two millennia. It is also a dynamic device, readily transformed to suit the needs of contemporary readers. In How the Page Matters, Bonnie Mak explores how changing technology has affected the reception of visual and written information. Mak examines the fifteenth-century Latin text Controversia de nobilitate in three forms: as a manuscript, a printed work, and a digital edition. Transcending boundaries of time and language, How the Page Matters connects technology with tradition using innovative new media theories. While historicizing contemporary digital culture and asking how on-screen combinations of image and text affect the way conveyed information is understood, Mak's elegant analysis proves both the timeliness of studying interface design and the persistence of the page as a communication mechanism.

The Sign of the Gospel

by

ISBN: 9780800699994

Publication Date: 2013-08-01

The theology of the sacraments is one of the most contested parts in Barth's theology, none more so than the doctrine of baptism. Barth's proposals on baptism have generated intense conversation and disagreement, not only on its application to Protestant and ecumenical theology but even on its own consistency with Barth's larger dogmatic project. McMaken takes up this controversial question, sets it in its proper context within the history of doctrine and Barth's systematic work, and argues for a constructive reclamation of infant baptism that accords with Barth's overarching theological concerns and insights, notably from Barth's mature theological commitments. Pivotally, this volume claims that a reorientation of the doctrine of baptism opens up a new perspective on the practice of infant baptism on the basis of Barth's theology; this new perspective, as well, holds the potential for wide, ecumenical application as a form of the proclamation of the gospel and a vital dimension of the church's missional vocation. A commanding volume for scholars and students in systematic theology, ecumenical studies, and sacramental theology.

How God Became King

by

ISBN: 9780061730573

Publication Date: 2012-03-13

Foundational: The four gospels come directly from the ancient church and are among the primary sources for the church's teachings. Familiar: Since Christian worship services began, a reading from the gospels has played a central role. Studied: For over two hundred years scholars have challenged and defended the central claims of the gospels: miracles, historical accuracy, the divinity of Jesus, and more. But Forgotten: Still, leading Bible scholar N. T. Wright reveals shocking news: We have all forgotten what the four gospels are about. "Despite centuries of intense and heavy industry expended on the study of all sorts of features of the gospels," Wright writes, "we have often managed to miss the main thing that they, all four of them, are most eager to tell us. What we need is not just a bit of fine-tuning, an adjustment here and there. We need a fundamental rethink about what the gospels are trying to tell us." What Wright offers is an opportunity to confront these powerful texts afresh, as if we are encountering them for the first time. How God Became King reveals the surprising, unexpected, and shocking news of the gospels: this is the story of a new king, a new kind of king, a king who has changed everything, and a king who invites us to be part of his new world.

Wavelets and Subband Coding

by

ISBN: 0130970808

Publication Date: 1995-04-21

A central goal of signal processing is to describe real life signals, be it for computation, compression, or understanding. This book presents a unified view of wavelets and subband coding with a signal processing perspective. Covers the discrete-time case, or filter banks; development of wavelets; continuous wavelet and local Fourier transforms; efficient algorithms for filter banks and wavelet computations; and signal compression. For electrical engineers and computer scientists.

The History of the Decline and Fall of the Roman Empire (Volume II of VI)

by

ISBN: 9781420945300

Publication