New Student Orientation
Coming to Lindenwood is an exciting time for new students, but we know making the change can also be overwhelming for both students and their families. That is why parents and family members are encouraged to attend New Student Orientation and learn what they can do to ensure their student experiences a successful transition to Lindenwood.
Throughout Move-in Day and the second day of New Student Orientation, there will be two separate "parent-only" sessions designed to provide family members with relevant information regarding their student's experience at Lindenwood. These sessions are an excellent time for you to engage in discussion with other parents and with Lindenwood University staff members who can address any questions or concerns you may have.
Parent Sessions
Wednesday, August 21, 2019
6:00 p.m. - 8:00 p.m.

Parent Supporter Reception-Library & Academic Resource Center (LARC)

All Lion families are invited to join the greater University community and the First-Year Programs team for a dessert and drink reception.
Thursday, August 22, 2019
9:00 a.m. - 9:45 a.m.

Lindenwood Lion Welcome- J. Scheidegger Center


Join the greater University community as the entire Class of 2023 and their supporters gather for the official University welcome and meet University administrators.

9:45 a.m. - 10:45 a.m.

Parent/Supporter Orientation- J. Scheidegger Center

Join University administrators as we break down the barriers facing your new Lion and discuss the many resources available to aid them in their success.

11:15 a.m. - 12:15 p.m.

All Group Speaker- J. Scheidegger Center

12:30 p.m. - 2:00 p.m.

Lunch- Tents outside J. Scheidegger Center

Join your Lion for one last meal before they embark on the rest of their NSO journey!
If you are planning to participate in New Student Orientation, please have your student indicate on his/her registration form how many family members will be attending. Please also note: the only meal during New Student Orientation provided to families is at the Farewell Fiesta; all other meals are on your own.
Get Connected!
Lindenwood University believes family involvement improves college success for all students. Therefore, First-Year Programs offers numerous platforms for familial involvement/interaction. Lindenwood families are encouraged to "like" Lindenwood University Parents and Lindenwood University First-Year Programs on Facebook, while also following @LindenwoodFYP on Instagram and Twitter.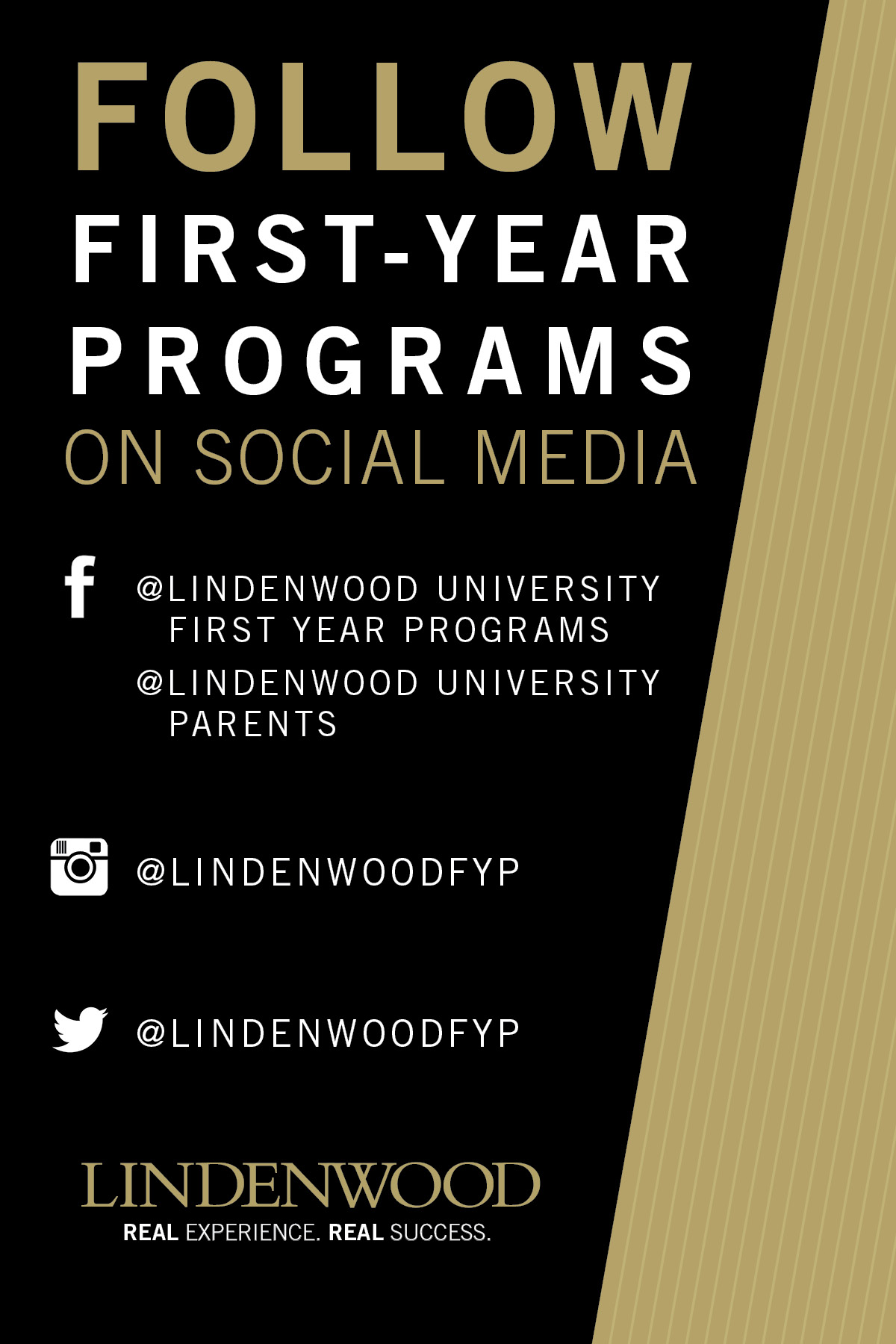 In addition, our recently revamped Parents page offers informative and comprehensive information designed to provide the most up-to-date information to Lindenwood families regarding University updates, upcoming events, important initiatives, etc. Parents can direct website-related questions to Brooke VonJensen at (636) 949-4587.
Lastly, the First-Year Programs staff produces a newsletter highlighting events, updates, programs, initiatives, and developments occurring within the University. This newsletter includes articles created by staff members from across campus designed to inform and update Lion Families on all things Lindenwood University. Please direct any questions about the newsletter to Brooke VonJensen, Coordinator for First-Year Programs at (636) 949-4587.