About Alumni Relations
The Office of Alumni Relations is housed in the Advancement & Communications division at Lindenwood University. Alumni Relations oversees the Alumni Association that provides all programming and benefits to Lindenwood alumni.
Mission Statement
The Office of Alumni Relations is dedicated to facilitating lifetime connections to alumni, students, and friends with Lindenwood University and each other.
Vision Statement
The Office of Alumni Relations will serve as the central location to connect all alumni, students, and friends of the Lion & Lynx family.
Values
Our values are interconnected with the values of the institution. These include Integrity, Dedication, Excellence, Creativity, and Community.

Integrity - We are committed to ensuring trust and respect for all persons in an environment that cultivates individual and institutional integrity.
Dedication - We are committed to developing a high-performance work ethic and dedication to discipline or vocation.
Excellence - We are committed to providing quality and excellence in all our endeavors.
Creativity - We are committed to the development of original ideas, knowledge, and innovative approaches to solving complex problems.
Community - We are committed to creating a connected, diverse community, sharing common attitudes, interests, and goals supporting personal and professional growth.
Strategic Plan 2020-2025
Goal 1: Communication
Establish and enhance a line of communication between the Office of Alumni Relations, students, alumni, and friends.

1: Focus on updating and maintaining the best contact information for our alumni
2: Segment our communication to alumni based on platform preferences
3: Ensure alumni voices are heard and supported

FY20 Progress:

Website overhaul in March 2020 with all new information and new pages
Stand-alone alumni website launched October 2020
Lindenwood University Magazine survey sent to constituents

Fall magazine set to be released in November 2020

Alumni newsletters emailed each month beginning in April 2020
Segmented emails to invite alumni to events based on majors, graduation years, etc.
Facebook page updated and maintained
Continuous communication about updating contact information – listed on all items sent out
Goal 2: Engagement
Engage Lindenwood alumni everywhere by tailoring efforts to their geographic locations, LU experiences, and life stages, both digitally and in-person.

1: Focus resources to increase engagement of alumni and friends in specific geographic areas
2: Tailor programs and communications to the life stages of all Lindenwood students and alumni
3: Continue the Lindenwood legacy by connecting students and alumni through shared interests and experiences
4: Establish Warner Hall as the Alumni House and a home base for Lions & Lynx everywhere
5: Educate alumni on the alumni association and what that entails

FY20 Progress:

Warner Hall

Renovation of Warner Hall began in Summer 2020 and will continue throughout 2021
New coffee bar and lounge established for visitors

Book club

The book club was officially started in March 2020
Book club at 80 members as of August 2020

Events

46 virtual events hosted between April – August 2020
Alumni joining across the country and internationally

Graduates

Alumni & Graduate mingles hosted
Communication to graduates about the Office of Alumni Relations and their resources with the alumni association

Extensive research done to target top states, cities, and countries where President Porter will travel
Website offerings expanded to things to do while at home
Alumni IDs & Emails form was created to request these items
Alumni Awards were revitalized and expanded to three types of awards offered
Goal 3: Partnerships
Lead LU alumni relations efforts across the university and community by creating working relationships with other university divisions and businesses.

1: Serve as a university entry point and campus resource
2: Collaborate with strategic university initiatives and define partnership opportunities internally
3: Share market research with university entities to develop interlaced engagement strategies
4: Develop relationships within the community to help support volunteer efforts, establish discount opportunities for alumni, and fuse the Lindenwood community into the St. Charles/St. Louis metro community

FY20 Progress:

Shamrocks partnership established January 2020
Office of Institutional Effectiveness

Workshop with all academic deans to show how Office of Alumni Relations and Office of Institutional Research can help with program planning, events with alumni, etc.

Career Services & Corporate Recruiting

Hosted virtual industry round tables with experts in specific fields

Student Involvement

Developing the series: "Dining with Lions - A Night with Alumni, Faculty, President's Ambassadors, and Your Fellow Students"

Departments across campus

Hosted weekly coffee breaks to see what departments across campus were doing to engage with students and alumni and to navigate COVID-19.
Goal 4: Internal Organization
Attract and retain talented staff who are committed to advancing the Lindenwood Alumni Association and engaging Lions/Lynx everywhere.

1: Recruit and retain staff who embrace Lindenwood's culture, mission, and values
2: Invest in professional development for each staff member
3: Ensure the organizational structure of the Alumni Relations office is positioned for sustained growth and future stability
4: Determine how alumni relations fits into the Advancement & Communications division

FY20 Progress:

Director of Alumni Relations was introduced to alumni community December 2019
CASE Conferences/Institutes attended as of September 2020

Young Alumni & Student Engagement
Institute in Alumni Relations

Other professional development attended as of September 2020

60 hours of additional conferences, webinars, and trainings attended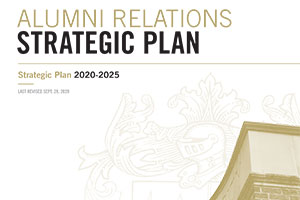 Alumni Relations Strategic Plan