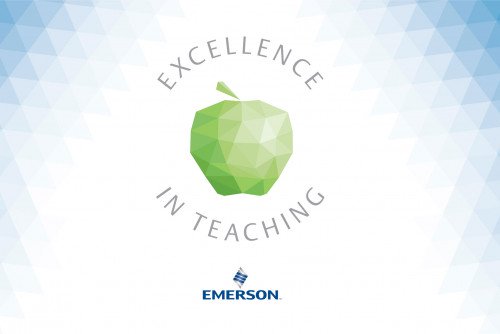 Emerson has named 100 local educators as honorees of the company's Excellence in Teaching Awards. The annual program recognizes St. Louis area instructors, selected by their schools' administrators, for their accomplishments and dedication to their students and the teaching profession.
"More than ever, in this environment affected by COVID-19, Emerson is proud to champion the critical role of teachers in guiding and shaping the lives of young people in our community," said David J. Rabe, vice president of corporate social responsibility for Emerson. "With the excellence in Teaching Awards, we celebrate the achievements and commitment of teachers across the St. Louis region who truly demonstrate excellence in education as they support students with their time and talents."
Ten Lindenwood alumni have been named recipients of Emerson's 2020 Excellence in Teaching Awards. Recognized are Andy Russell of St. Charles High School, Dan Derby of Bridgeway Elementary School, Karen Rosewell of Living Water Academy, Sara Schoeman of Orchard Farm Elementary, Alexandra Forgerson of Rockwood Summit High School, Emily Holdmeire of St. Francis Borgia Grade School, Lauren Farrelly of Liberty High School, Kia Eiland of James Avant Elementary School, Nathan Williams of Bayless Junior High School, and Karen Muller of Freeburg Community High School.
Emily Holdmeier '17 graduated from Lindenwood with a degree in elementary education and currently teaches at St. Francis Borgia Grade School. She shared, "I am beyond blessed and honored to have received this award, especially so early in my career. Lindenwood prepared me for my teaching career by providing me with the skills necessary for success. All of the opportunities in the classroom and working with children that were given throughout the course work provided a time to experience situations firsthand and taught me how to come up with the best solutions."
Lauren Coleman Farrelly '05 earned a French degree from Lindenwood and shared these sentiments. "My time at Lindenwood was great. I felt that all of my professors truly cared about their students and were so great at giving one-on-one, personalized instruction when needed, especially in the field of education… I cannot not say enough amazing things about Dr. Nancy Durbin and her excellent teaching throughout my time at LU." Farrelly works for the Wentzville School District and teaches at Liberty High School.
In addition to these alumni, Professor Jon Grant Hargate from Lindenwood's School of Arts, Media, and Communications was named to the list of award recipients and was celebrated in a story from The Linden Gold.