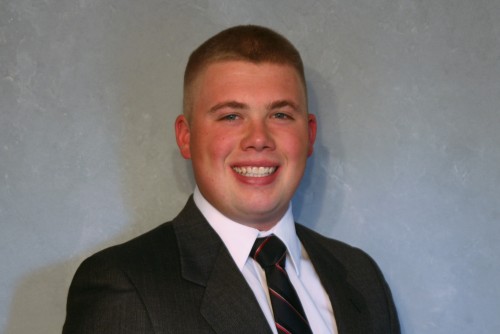 For the first time in the history of Lindenwood University-Belleville, one of the school's graduates has been accepted to medical school.
Collin Young, a native of Mount Vernon, Ill., was one of the first students to sign up for classes in 2013 when Lindenwood Belleville opened its Biology Department. He graduated in the spring with a 3.97 grade point average and recently learned he was accepted to medical school at the University of Tennessee with other applications still pending.
"I have one offer, and I am still waiting on a few others," Young said while reflecting on the next step of his education. "So, I'm not sure yet where I will be going, but I plan to be an orthopedic surgeon and work in the area of sports medicine."
Campus President Dr. Brett Barger said he's thrilled with Young's accomplishment and hopes the graduate will be the first of many medical school students to have done their undergrad work at Lindenwood Belleville.
"We are so proud of Collin but not completely surprised," said Barger. "He is a very good student whose professors think very highly of him. I expect to see more and more of this with the talent we have in that program."
Young said he was initially hesitant to put his future in the hands of a newly created biology department. However, any concerns he had quickly evaporated when he visited Lindenwood Belleville and met the staff, including Dr. Paige Mettler-Cherry, Dr. Richard Finger, and Dr. Jay Enyart.
"I was impressed with the new science labs and the expertise of the biology faculty," Young said. "It was a wonderful opportunity to attend Lindenwood University-Belleville, and I'm glad it's the university I chose."
Mettler-Cherry said the biology curriculum was designed to be rigorous in order to produce students capable of taking their education–and their careers–to the next level. She said it's not for everyone; it's a tough field of study designed for serious undergraduates.
"Collin is the sort of student every teacher wants to have in their class," said Mettler-Cherry. "He was always willing to go above and beyond the requirements. He worked as a tutor since his sophomore year, helping other students. He's not just a great student. He's a great person."
Young, who played baseball while at Lindenwood Belleville, said his own injury inspired his career aspirations. He tore his anterior cruciate ligament before his freshman baseball season and became fascinated by his surgery and the healing process.