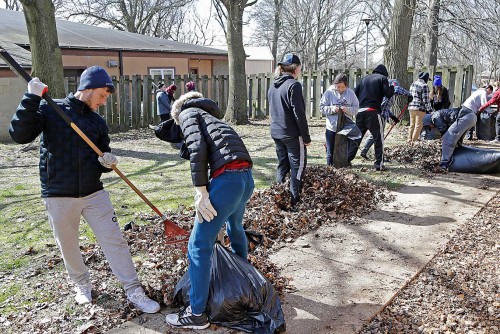 The Office of Student Life and Leadership at Lindenwood University-Belleville recently hosted its inaugural Community and Campus Day of Service, where more than 70 students and staff worked throughout the Belleville area to assist with yard cleanup and general maintenance and to foster a sense of civic responsibility.
"The university and its students place a priority on service learning and giving back to the communities that have contributed to the university's efforts," said Michelle Sanford, director of Student Life and Leadership. "The overwhelming support we received from student volunteers shows how important volunteering is to young people today."
Students worked at Caritas Family Solution's various group homes to assist families with outdoor cleanup and landscaping projects, at the Specialized Living Center in Swansea, Ill. to clean up the grounds, and at private residents' homes to assist with landscaping and other general maintenance projects.
"I am a member of Phi Beta Sigma fraternity and we are extremely big on service," said business administration senior Kenny McCulley of St. Louis. "We give back in whatever way possible that we can. We are an inclusive fraternity and are happy to have members who exemplify our high ideals of brotherhood, scholarship, and most importantly, service. Volunteering means a lot to me. I have always wanted to give back and think you should give back to the community in which you live."
According to Sanford, for many international students studying at the university, this was the first opportunity they had to experience yard cleanup work.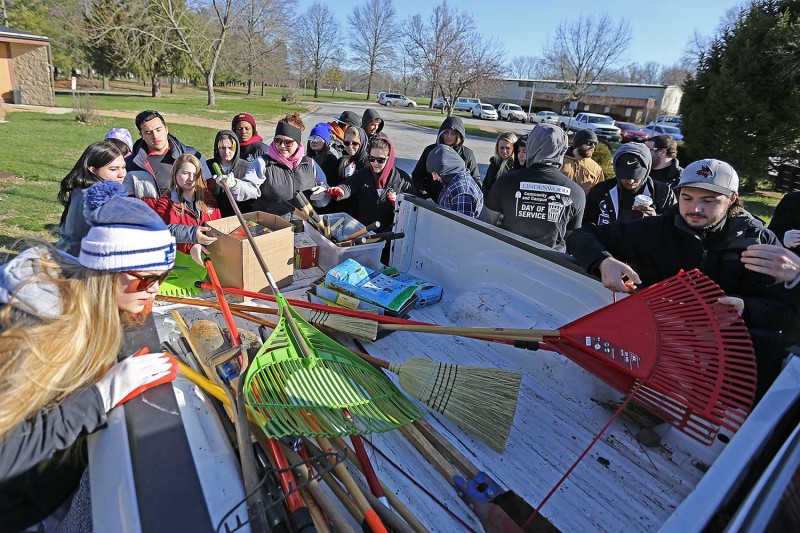 "For many of our international students, they'd never had the opportunity to rake or trim shrubs, for example, because the climate in their home country is quite different," said Sanford. "So, beyond a volunteer opportunity, this project turned out to be a cultural exchange experience for many of our international student, too."
To learn more about the volunteer efforts at Lindenwood University-Belleville, contact Sanford at MSanford@lindenwood.edu or 618-671-6143.
---
Photo Cutline: Lindenwood University-Belleville students who volunteered at the inaugural Community and Campus Day of Service. This group of students was assigned to the Specialized Living Center in Swansea, Ill., where they cleaned up the facility's grounds and landscaping.