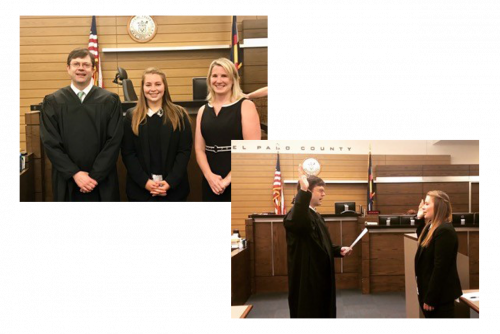 On any given day, Marly Silvestri meets with felons, addicts, and individuals who struggle with a myriad of mental health issues. But for her, this is the perfect job. As a probation officer for the Fourth Judicial District of Colorado, Silvestri is grateful to have recently accepted a position where her two passions – criminal justice and mental health – intersect.
"When I started as a freshman at Lindenwood, I wasn't sure what my end game was going into the criminal justice program," explained Silvestri. "My required Freshman Experience class encouraged me to learn more about the career opportunities in the criminal justice field and how to leverage my bachelor's degree to earn the career I wanted."
Silvestri, a self-described military brat, graduated from Althoff Catholic High School in Belleville, Ill. in 2013, and accepted a scholarship to be part of the football program at Lindenwood Belleville.
"It wasn't your typical athletic scholarship," said Silvestri. "I was offered a scholarship to be the team videographer, and because of that opportunity, and it being close to family, I chose Lindenwood Belleville."
As she became more involved on campus, Silvestri held offices in both the Criminal Justice Club and the National Criminal Justice Society. She also established relationships with professors whose experience in the criminal justice world helped her better understand what life after college might be like.
"My professor and mentor Dr. [Joe] Zlatic was very realistic in helping me understand what to expect in the professional world," said Silvestri. "He brought in so much of his own experience in what he taught because he was a federal pre-trial officer, and hearing his first-hand knowledge somehow made him more real as someone to learn from."
Silvestri said that Zlatic has high expectations of his students, but it was those expectations that challenged her to enhance her research and writing skills, which she said readied her for graduate school.
"I knew I wanted to pursue a graduate degree because it would open up additional opportunities professionally for me such as holding a supervisory position later in my career," she said.
With that, upon graduation from Lindenwood Belleville, Silvestri was accepted to the University of Illinois at Chicago's Master of Social Work (MSW) Program, where she said she felt very prepared academically.
"I credit Dr. Zlatic for preparing me for the level of research and writing I conducted throughout my graduate career," Silvestri said. "Had it not been for his high expectations, I don't believe I would have performed as strongly."
It was during the two internships required to complete her MSW that Silvestri grew to realize the specific career path she wanted to take. During the first internship, she was placed in a drug treatment center, conducting group therapy. For the second internship, she worked for the organization that provided substance abuse treatment to inmates in the Cook County Jail.
"That's where saw the criminal justice and mental health worlds collide, and I knew I wanted to earn a career where I could be impact someone's treatment in a way to help them transition away from life in the criminal justice system."
Following her internships and graduation from the MSW program, Silvestri applied to probation jobs all over the United States, both state and federal, and shortly thereafter, she accepted the position in Colorado, turning down other offers from across the country.
As a probation officer, her case load is comprised of adults whose mental health issues are the issues with which they need the most assistance in life.
"The details of those individuals who are assigned to my case load vary broadly, but they are assigned to me because I specialize in mental health issues," she said. "Often times, I assist them in finding housing and treatment providers or meeting other requirements of the probation. It's incredibly important that mental health is finally on the criminal justice system's radar, and I'm happy to be in a state that is progressive legislatively when it comes to the criminal justice system."
Learn more about degrees in the Criminology and Criminal Justice Department at Lindenwood University-Belleville.
---
Photo Cutline: Lindenwood University-Belleville alumna Marly Silvestri is pictured here with the Fourth Judicial District of Colorado Chief Judge William Bain, at left, and Chief Probation Officer Ellen Walker, following being sworn in as probation officer for the Fourth Judicial District of Colorado.