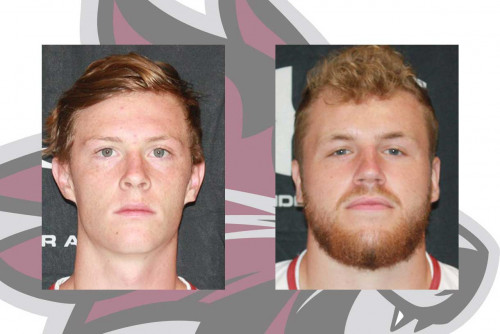 The Lindenwood University-Belleville rugby team is excited to announce that junior Coleson Warner of Chubbuck, Idaho and recent graduate Peter Winkler of Prairie Village, Kan. were named to the USA Rugby Collegiate Academic Honor Roll. This is the first time in program history that players on the Lindenwood Belleville rugby team have received this honor.
To be picked for this prestigious list, there are several requirements that the athlete must meet. A player must be at least a sophomore, must have a cumulative GPA of 3.5 or higher, and must have been a starting or a reserve for at least half of the team's matches.
"Coleson and Peter have been leaders both on the field and in the classroom," Head Coach Joe Lippert said. "They played in every single game they were healthy for, and they led by example for their teammates."
Winkler graduated with a Bachelor of Arts in Criminal Justice and Warner will complete his degree in elementary education next year, and will now join a list of more than 1,750 college students acknowledged by USA Rugby for their academic and athletic talents. This is the seventh year that USA Rugby has awarded this honor.
The Lindenwood Belleville rugby team will begin its season at home at 1 p.m. on Sat., Sept. 1, with the University of Wisconsin Badgers on Lynx Field.
Fans, make sure to stay updated on lindenwoodlynx.com throughout the 2018-19 year for full updates and recaps on the rugby team.