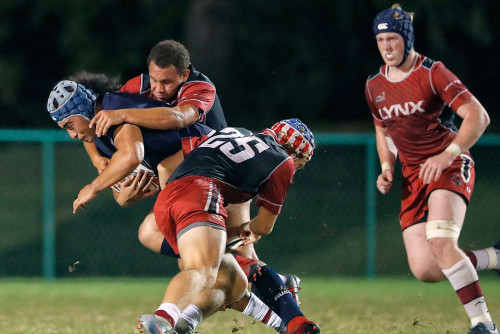 The 2018 fall season has proven to be extremely successful for the Lindenwood University-Belleville rugby team. The Lynx, with an impressive 7-2 record, are getting noticed on a national level, rising up to No. 15 in Division I College Rankings by Rugby Today, which sets a new program high in the Division I poll.
"We have been working hard all season, and the improvement in rankings is a reflection of that work," said Head Coach Joe Lippert. "In particular, we have focused on defense this fall, which has allowed us to win matches against higher-quality opponents than we have in the past."
Lindenwood Belleville opened its season with a pair of matches with Big Ten schools, claiming a 36-14 win at home against Wisconsin in the season opener before dropping a close 18-14 decision at Indiana on Sept. 8. Following a forfeit victory over Middle Tennessee, the Lynx returned home and picked up a 38-16 win over Iowa Central.
After a home victory over the University of Kansas on October 6, the Lynx hit the road to record a 33-5 win at the University of Kentucky and a 48-5 triumph at the University of Wisconsin-Whitewater. On Oct. 27, Lindenwood Belleville closed out its home season with a thrilling 39-26 win against traditional power and No. 16-ranked Arkansas State before completing the regular season slate with a 29-10 loss at No. 2-ranked Lindenwood University.
"Our team is in its fourth year of existence, and we have added substantial talent and depth in the past 12 months," said Lippert. "Achieving our highest ever ranking is one small payoff for months of hard work and diligent focused effort."
The Lindenwood Belleville rugby team now waits to see where it will be drawn in the Division 1-AA National Tournament. The announcement will be made on Tuesday, Nov. 6.
"Rankings are great, but winning championships and beating higher-ranked opponents the right way will be our ultimate measure of success," said Lippert. "While reaching a highest ranking in program history is a sign of improvement, we are far from a finished product and intend to move on to bigger things. This will not be this program's highest ranking for long."
Fans, make sure to stay updated on lindenwoodlynx.com throughout the 2018-19 season for full updates and recaps on the rugby team.