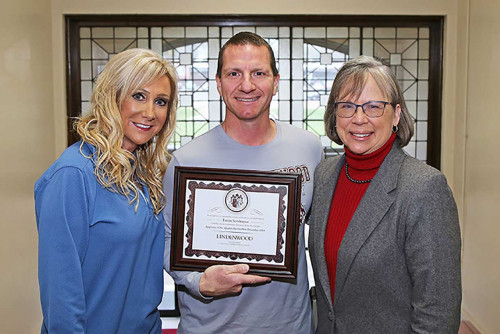 Torrin Suedmeyer, early alert coordinator, was named Lindenwood University-Belleville's Employee of the Quarter in November. Suedmeyer joined the Lindenwood staff in July 2016 and quickly became an active part of the Lindenwood community.
Suedmeyer wears many hats on the Lindenwood campus, which allows him to have a positive impact on students. As an early alert coordinator, he provides support to students who are at risk academically. He works with the students to establish a plan to get them back on track and access to any resources they may need. In addition, Suedmeyer is also the student government (LSGA) sponsor.
"I love interacting with young people and helping them achieve their goals," said Suedmeyer. "As a mentor at Lindenwood University-Belleville, I get to help students every day, and there's no better reward than helping students realize their potential."
Paige Russell, coordinator of mail services, nominated Suedmeyer for his persistence in being willing to lend a hand. From providing training to moving cabinets, Russell said he was a large help during the period of adjustment in the mailroom.
"I have never, in all my years of customer service and managerial training, ever been able to depend on someone and have so much help just because he wants to see me do well," said Russell.
Suedmeyer was also nominated by Dean of Students Dr. Suzy Jones for his assistance across campus.
"He goes above and beyond to not only assist our students who are referred to the Early Alert Program, but he is also willing to help in other departments," said Jones. "Torrin doesn't hesitate to step up and be a team player when other areas within our department or campus-wide need additional support."
Suedmeyer remarked that the best part of working at Lindenwood Belleville is being a part of the Student Development Resource Center team and helping students be successful so they can achieve their goals.
Suedmeyer holds a bachelor's degree in history from McKendree University and a master's degree in the same from American Public University. He and his wife, Alicia, have been married for 19 years and have two children, Shea and Makena.