Reference
Reference books are excellent research tools that can help you with your paper or assignment. The Reference Section includes materials such as citation style manuals (APA, MLA, Chicago), dictionaries & thesauri, encyclopedias, handbooks, atlases and much more. This collection covers a large variety of topics and subject areas (African American Studies, Art, Biology, Chemistry, Criminology, Education, Literature, Psychology, etc.) These materials provide answers to specific questions, give brief facts, statistics and technical instructions; provide background information; and can direct you to additional information sources. Reference works are typically designed to be consulted, rather than read from cover to cover, it is for this reason that they can't be checked out.
NY Times Best Sellers & Popular Reads
Love to read but can't afford the high price of today's best sellers on a student's budget? No worries - the Library provides some of today's hottest titles for your reading pleasure and it's totally FREE!!!! Whether you just want to take a brain-break from your textbooks, you're heading out on a long road trip with your team or you're just tired of watching mindless television "reality" shows, the Library offers a variety of options to suit your mood. (Remember if it's not on the shelf, just request it!)
Reserves
The Reserve Collection is located behind the circulation desk. Librarians and faculty place supplemental readings, study guides, DVD's, headphones and other materials on reserve in order to accommodate use by the entire class. Reserve items have very short circulation periods so the material can be available to all of the class members. Most items are limited to use only within the library and have to a two-hour loan period. Fines on reserve material are charged by the hour.
Juvenile Collection
The Belleville Library Juvenile Collection consists of books for pre-kindergarten, elementary, and young adult readers. The collection supports the University's teacher education program and children's literature courses. The Library strives to provide future educators with a collection that reflects diverse families and life experiences.
The juvenile collection includes New York Times Best Sellers and major book award winners in both fiction and non-fiction. The collection includes Caldecott, Newbery and Corretta Scott King award winners, along with the Illinois Monarch Award winners for K-3 readers.
Every year the collection gets an extensive work out when the students from Camp Lynx Tales invade the Library. If you're in the elementary education program or just love to help children read, contact Stephanie Yearian to volunteer this summer (a 3 week commitment is required).
While the collection was developed with K-12 educators in mind, it is also available for the enjoyment of all students, faculty and staff!
New York Times Best Sellers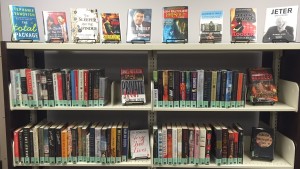 Get the latest NY Times Best Sellers and hot new reads! Looking for that book turned into a movie? Latest memoir? Mystery, horror, love story, graphic novel...we probably have it here. If you're looking for something and don't see it on the shelf, just ask us and we'll be more than happy to locate a copy for you.