March 3, 2021
9 a.m. to 5 p.m.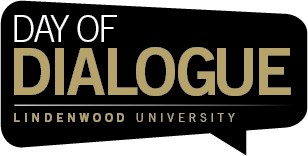 The Day of Dialogue is a virtual campus-wide event where students, faculty, and staff can examine their individual and institutional role in building a shared community. This day is dedicated to supporting the educational mission statement of the University by providing a space outside of the classroom to support academic and intellectual inquiry.
The planning committee encourages faculty to integrate the Day of Dialogue offerings into their curriculum and invites student participation as an extension of their classrooms.
Participants will examine the theme of Civic Engagement and Social Awareness through exploration of the following topics: Ableism, Ageism, Civic Engagement, Distance Learning and Globalization, Race, Scholarly Engagement, Social Awareness, and University Processes and Procedures.
Faculty, staff, students, alumni, and the general public are invited to participate. Registration for the event is free, and available through the Lindenwood Learning Academy.
Schedule
Schedule
9 a.m.
Welcome & Presidential Remarks
9:25 a.m.
Breakout Sessions


Breakout #1: "Respect Ability: What is MY role?", Heather Pennington, MA Ed, CSCS, CSPS, Assistant Professor of Physical Education
Breakout #2: "The Impact of COVID-19 on Vulnerable Populations: Alumni Share Their Field Experiences", Dr. Amanda Harrod, MPH, Assistant Professor of Public Health and Colleagues
Breakout #3: "Social Awareness: Fashion Statements for Social Justice", Dr. Chajuana Trawick, Endowed Chair and Associate Professor of Fashion, Business, and Design

10:15 a.m.
Keynote Introductions
10:20 a.m.
Keynote Speaker: "Stereotype Threat and Identity Threat: The Science of a Diverse Community", Dr. Claude Steele
11:20 a.m.
Keynote Q&A, Dr. Claude Steele
12 p.m.
Lunch Break
1 p.m.
Breakout Sessions


Breakout #4: "Police, BLM, and The Intersection Between the Two", Dr. Pernell Witherspoon, Professor of Criminal Justice
Breakout #5: "So you Want to Change the World...", Drs. Amy Estlund, Assistant Professor of Public Health and Barbara Hosto-Marti, MPA, Assistant Professor of Political Science
Breakout #6: "Why Should I Care? Global Events, Empathy, and Soft Skills", Dr. James Hutson, Assistant Dean of Online and Graduate Programs

1:50 p.m.
Breakout Sessions


Breakout #7: "Christianity and Racism", Rev. Dr. Nichole Torbitzky, University Chaplain and Assistant Professor of Religion
Breakout #8: "#IdentityMatters: Who are you and why it matters", Drs. Stephanie Afful, Associate Professor of Psychology and Suzanne Stoelting, Professor of Sociology
Breakout #9: "Scholarly Exploration: Improvement through Research", Dr. Mitch Nasser

2:40 p.m.
Breakout Sessions


Breakout #10: "Civic Engagement: From the Civil Rights Movement to Today", Dr. Darryl Diggs, Principal of Hardin Middle School and Co-founder of Black Males in Education of St. Louis
Breakout #11: "Ageism & The Generational Divide", Rachel Frisch, Admissions Counselor
Breakout #12: "Dismantling Racism: From Equality to Liberation", Dr. Shane Williamson, Director of Diversity, Equity & Inclusion - Webster Groves School District and School of Education Adjunct Instructor

3:30 p.m.
Keynote Introductions
3:35 p.m.
Closing Speaker, Mrs. Emily Pitts
Former General Partner, Head of Inclusion and Diversity at Edward Jones and DEI Consultant
4:05 p.m.
Q&A with Mrs. Pitts
4:15 p.m.
Day of Dialogue Closing Ceremonies
Keynote Speaker, Dr. Claude Steele
Dr. Claude M. Steele is an American social psychologist and a Professor of Psychology at Stanford University. He is best known for his work on stereotype threat and its application to minority student academic performance. His earlier work dealt with research on the self (e.g., self-image, self-affirmation) as well as the role of self-regulation in addictive behaviors. In 2010, he released his book, Whistling Vivaldi, and Other Clues to How Stereotypes Affect Us, summarizing years of research on stereotype threat and the underperformance of minority students in higher education.

Drawing on stereotype threat and social identity threat research, Dr. Steele's talk will address the why, what, and how of diverse learning communities: why they are important, a working hypothesis about what is critical to their success and what research reveals about how to achieve that success. The talk's practical aim is to identify features of diverse learning communities — schools, universities, and academic disciplines — that while good for all students, are especially helpful for minority students and for women in STEM fields. The talk will also explore the psychological significance of community and its role in learning. Dr. Claude Steele's invitation to deliver the keynote address follows the work of Dr. Stephanie Afful and the professional learning community she organized as a Lindenwood Learning Academy Employee Fellow during the 2018-19 academic school year. Dr. Afful's fellowship focused primarily on diversity, equity, and inclusion and used Whistling Vivaldi as its central text.

Steele holds B.A. in Psychology from Hiram College, an M.A. in Social Psychology from Ohio State University, and a Ph.D. in Social Psychology and Statistical Psychology from Ohio State University. Professor Steele holds Honorary Doctorates from Yale University, Northwestern University, University of Chicago, University of Michigan, DePaul University and Claremont Graduate University. He is elected to the American Academy of Arts and Sciences, the National Academy of Sciences, the National Science Board, the National Academy of Education, and the American Philosophical Society.

Dr. Claude Steele currently serves as the Chair of the Russell Sage Foundation Board of Directors and serves on the board of the John D. and Catherine T. MacArthur Foundation and on the board of Scripps College. Professor Steele is a Fellow for both the American Institutes for Research and the American Academy of Political and Social Science, and serves on the Advisory Council of the MIT Media Lab. He has served in several major academic leadership positions as the Executive Vice Chancellor and Provost at UC Berkeley, the I. James Quillen Dean for the School of Education at Stanford University, and as the 21st Provost of Columbia University. Past roles also include serving as the President of the Society for Personality and Social Psychology, as the President of the Western Psychological Association, and as a member of the Board of Directors of the American Psychological Society.
Closing Speaker, Mrs. Emily Pitts
Emily brings over 35 years of corporate experience. She has experience developing and influencing leadership teams at all levels, understanding the importance of having a growth mindset, and how to leverage emotional intelligence to develop meaningful relationships. Emily has a deep understanding and passion for ensuring organizations recognize and optimize human capital to achieve business objectives, while maintaining an inclusive approach.

Emily became the first African American woman General Partner at Edward Jones a Fortune 500 financial services firm. During her 25year career with Edward Jones, she served as a Financial Advisor for 9 years helping clients reach their personal financial goals and objectives. Her most recent role at Edward Jones was General Partner over Inclusion and Diversity. In her role, Emily created and oversaw the firm's Inclusion & Diversity strategy. She established the firms first Courageous Conversation Program to support the CEO Diversity Action Plan. She also created the firm's first Cross-Cultural Development Program (CCDP), which helps diverse financial advisors serve more clients, by demonstrating more Confidence, Competence and Credibility. Additionally, Emily developed the firm's first Women's Leadership Forum, Minority Leadership Forum and Inclusion Mentoring Program, and she oversaw the firm's Inclusion Council and Business Resource Groups. Emily has a proven track record of identifying individual and corporate blind spots and opportunities and creating new and innovative approaches to address them. Before Edward Jones, Emily held leadership roles at Charles Schwab, Dean Witter, and Merrill Lynch.

In 2013, Diversity Woman's Magazine named Emily one of 50 Diversity Champions. In 2014, Savoy Magazine named her one of the Top Influential Women in Corporate America, and The St. Louis Business Journal named her to its list of 25 Most Influential Business Women. Emily received a Lifetime Achievement Award from the St Louis Urban League, signed by Former President Obama. In 2018, she received the YWCA Women's Corporate Leadership Award.

Emily serves on the boards of the Boys and Girls Club of Greater St. Louis, the St. Louis Urban League. She served as Chair of the diversity committee of the National Securities Industry and Financial Markets Association (SIFMA). She sits on the Drury University Board of trustees, and the St. Louis Alzheimer's Association Board. Emily is also a member of the Executive Leadership Council.

Emily's current client work as an entrepreneur is focused on leadership development and coaching, Diversity Equity and Inclusion (DEI) initiatives such as Courageous Conversations and is often sought after for keynote speaking engagements.
Registration Information
The Day of Dialogue is a virtual event open to all members of the campus community, alumni, and the public. To register, please visit the Lindenwood Learning Academy.
Acknowledgements
The Day of Dialogue is an initiative of the Diversity, Equity, and Inclusion (DEI) Task Force. The DEI Task Force would like to acknowledge those individuals who were instrumental in the process of bringing the event together. Thank you to those who have generously contributed their time and efforts in the planning of this event. We sincerely appreciate your support in building a more equitable and inclusive Lindenwood community.

Day of Dialogue Planning Committee

Enrollment Management
Cayte Billman, Assistant Director of Transfer Admissions

Human Resources
Kelly Moyich, Interim Dean of Students

Intercollegiate Athletics
Betsy Feutz, Assistant Vice President of Intercollegiate Athletics/Senior Woman Administrator

Lindenwood Online
Myron Burr, Instructional Designer/Staff Co-Chair of the DEI Task Force

College of Education and Human Services
Tammy Moore, Certification Officer/Assistant Director,College of Education and Human Services Assessment

College of Science, Technology, and Health
Amanda Harrod, Assistant Professor of Public Health/Faculty Co-Chair of the DEI Task Force

College of Arts and Humanities
Theodore Cohen, Associate Professor of History

Nichole Torbitzky, Assistant Professor of Religion/University Chaplain

College of Science, Technology, and Health
Stephanie Afful, Associate Professor of Psychology

Student Life and Diversity
Jennifer Spellazza, Coordinator for the Center for Diversity and Inclusion

Day of Dialogue Partners

Enrollment Management and Student Engagement

Advancement and Communications

Center for Diversity and Inclusion

Chaplain's Office

Lindenwood Learning Academy

Lindenwood Online

President's Equity and Inclusion Council

Residential Life