Lindenwood Online's bachelor programs have been ranked among the best in the United States for the second year running by U.S. News & World Report.
January 16, 2015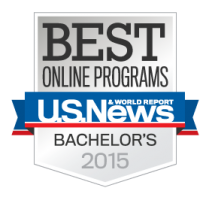 Lindenwood Online's bachelor programs have been ranked among the best in the United States for the second year running by U.S. News & World Report. The rankings, performed annually, are determined through an evaluation of faculty training and credentials, student participation, technology, and peer reputation. The rankings establish a college or university's educational credentials and are used by millions of potential students every year to decide which institutions best meet their career needs.
Top-Rated, In-Demand Online Bachelor Degree Programs
Lindenwood University's online bachelor's programs include business, criminal justice, and general studies. Each one uses a combination of theory and practical knowledge to deliver our highly-ranked online learning experience.
As the U.S. workforce continues to evolve and an increasing number of workplaces are requiring employees to have both undergraduate degrees and practical experience, people are looking for flexible, accredited programs. Lindenwood Online's bachelor's degrees are designed for students who want to advance in their careers but cannot attend class in a traditional campus setting. These degrees are particularly popular with military veterans and those who are planning careers in management or law enforcement.
Benefits of Lindenwood Online Instruction
The hallmark of Lindenwood Online's instruction is flexibility. Our students can earn their undergraduate and graduate degrees without stepping foot on campus. Students can work part-time or full-time while completing a bachelor's degree in criminal justice, business, or general studies. Both instruction and coursework can be completed on your computer—all you will need is an internet connection. You can study, complete homework, or take exams 24 hours a day, seven days a week.
Our students also choose Lindenwood because they require
An Accredited Program. Lindenwood Online has earned regional accreditation through the Higher Learning Commission of the North Central Association of Colleges and Schools. We offer hundreds of accredited, virtual undergraduate courses to complete your degree.
Completely Online Coursework. Classes in this program are offered online for those whose schedules don't allow them to participate in traditional on-campus classes. However, students who would like to attend classes can choose a hybrid program that combines online and on-campus courses.
Faculty with Real-World Experience. Every course in our online program is taught by Lindenwood University instructors. In addition to teaching the theory behind each topic, they also use their career experience to teach students about common day-to-day responsibilities in their future positions.
We are so pleased that U.S. News & World Report's latest rankings have confirmed Lindenwood Online's commitment to our current and future students. Contact us today at 636-373-7719 to talk with one of our admissions staff about joining our top-rated online bachelor degree program.